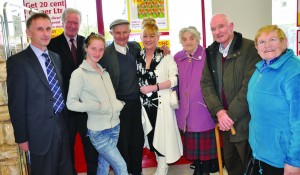 Rural bus celebrates its 10 year anniversary this year. One of the first trips for Rural Bus was on 31st January 2002 from Ardagh/Glensharrold to Newcastlewest. One of our first passengers was Joan Molyneaux from Ardagh who still travels religiously weekly 10 years later. Rural Bus is a community based company which operates the Rural Transport Programme in county Limerick and north Cork and has been providing transport to people living in rural areas that have limited access to transport services.
The group has expanded its services in the last 3 years and now operates 61 regular routes plus a wide variety of other transport services including transport to training, day care centres, youth services, Foróige, tea dances, disability groups and many more.
This service provides a social outlet, independence and strengthens the sense of community among our passengers. It also provides a door to door service, where possible, on each day that the static route is operating.
Anyone can use the service which costs €5 for an adult return journey (any route) and €2.50 for a child return journey (any route). Persons with a free travel card will be able to travel for free of charge.
Is transport a problem for you? If so please contact your area co-ordinator, Teresa Murphy, on 086-8479525 for further details or visit our website, www.ruralbus.com.