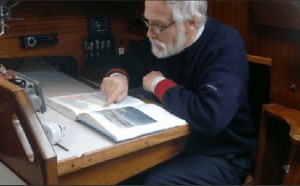 Two brave Limerick men are on a voyage around the coast of Ireland to raise much needed funds for the Mid-West Cancer Foundation and R.N.L.I. The idea to sail around Ireland was the brainchild of Coolcappa man Chris Egan,  supported by Dave Bevan, Bruff who themselves have had to battle against cancer.
The plan is to sail around Ireland with the support of friends and Foynes Yacht Club at their own pace. "We are not in a race," Chris told the Vale Star on Tuesday as the vessel with the men on board and their fellow crew members, Liam Madden and Gerry Hutton was about to sail into Broadhaven Bay on the coast of County Mayo. The plan is to reach Donegal and the fishing port of Killybegs by Wednesday. "The weather dictates how quickly we will complete the voyage, I have six weeks on my hands," Chris said.
Now that the weather has improved and the forecast is good, the men are optimistic about making considerable progress over the coming days.
The men have no target sum to raise but Chris confirmed that the response at the various stay-over stops had been phenomenal.
Anyone wishing to subscribe to the men's chosen charity can do so by logging on to www.sailagainstcancerireland.ie