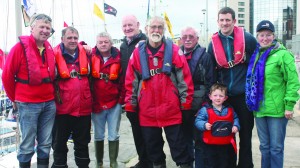 A welcome fit for a king was accorded to two brave Limerick sailors by an island king this week. The King of Tory Island Patsy Dan Rogers laid on a hero's welcome for the two Limerick men Chris Egan and Dave Bevan during an enforced two day stop over on the windswept northern island.
The men are on a voyage around the coast of Ireland to raise much needed funds for the Mid-West Cancer Foundation and R.N.L.I.
"We got held up on Tory Island for two days because of a six foot swell. Paddy Dan gave us a great welcome and presented us with a painting done by himself. Tory has a great reputation for artists," Chris told the Weekly Observer as the two were sailing around Horn Head.
Dave broke off from the voyage last week to return to Cork to undergo treatment before joining up with Chris again on Friday. Next target is Port Stewart and the duo are due to be joined by Emer Kirwan from Foynes for a couple of legs of the journey.
Anyone wishing to subscribe to the men's chosen charity can do so by logging on to www.sailagainstcancerireland.ie