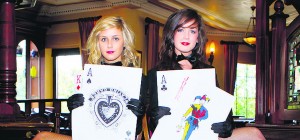 The countdown is on to a very glamorous and fun Casino Night at the Arches Bar in Mallow this Friday. Bringing a little Vegas action to Mallow for one night only, the event is open to all, whether they consider themselves high rollers or just want a night out with a difference.
With roulette and blackjack the games of choice, there will be 8 tables where players can gamble with their complimentary €1000 worth of funny money. Professional croupiers will be manning the tables and the 3 players who manage to hold on to their money until the end of the night will be up for some great prizes including Munster rugby tickets. There will also be an opportunity to spin the wheel for cash prizes and spot prizes on offer.
There's an immediate return for your investment, jokes Chamber President Pat O'Sullivan. "Where else can you legally get '€1000' for just spending €20? We all know how difficult the current economic situation is, so we wanted to ensure our casino night would be good value for money. As well as the gambling tables, there will be finger food and refreshments and a DJ to keep the night going until late.
One of the organisers, Rory Casey says, "We're really delighted with the response so far from the Mallow business community. I think the idea of a casino night has captured the imagination. 8 businesses came on board to sponsor the cost of the gambling tables and tickets have been flying out the door".
Mallow Chamber have been very active over the past 12 months and hope the money raised will ensure the Chamber can not only continue to represent its members but also continue the positive marketing of Mallow town and its businesses.
"It's not easy ensuring Mallow is in the headlines for all the right reasons," says incoming Chamber President Mary Kelly. "As with all towns, we have issues and problems we must deal with, but we need to push the positive aspects Mallow has to offer. It has been a very positive year for the town, we have had a relatively large number of new businesses opening their doors and we want to be able to keep that momentum going."
A limited amount of tickets for the casino night are still available through Mallow Chamber (022) 55660 or you can take a gamble and see if there are any on the door on the night!