There was a safety scare on this Wednesday morning at Colaiste Iósaef, Kilmallock that led to the school being evacuated and the students sent home for the day as the Army, Gardai and Fire Services were called in.
Seam Twomey, school Principal explained" As part of an periodic safety audit, one of our science teachers noticed that a chemical 2,4-Dinitrophenylhydrazine had crystallised. This substance is commonly used in laboratories at schools and universities and while normally safe when the chemical crystallises and destabilises it becomes sensitive to heat or friction".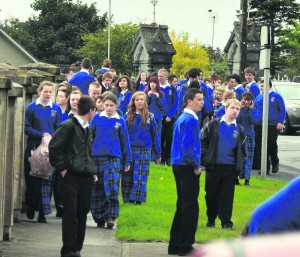 Mr. Twomey and his staff immediately initiated  the school's safety protocols and  evacuated all students and teachers from the main school building. They then took advice from Co. Limerick VEC and as a result took professional guidance from Veolia Environmental Services as to how to safely dispose of the chemical. The school were  informed  that the routine procedure was to contact the Army Bomb Disposal services."To this end we contacted the emergency services and all students were sent home for the remainder of the day. A number of hours later the Army services disposed of the substance in a safe and controlled manner" the Principal outlined.
Paying tribute to everybody involved after the scare had passed on Wednesday afternoon, Mr, Twomey said" I'd like to thank both Co. Limerick VEC and Veoilia for their support and advice and to pay tribute to the Gardai, Fire and Army services for their assistance. I also want to commend our staff and students on the calm and composed manner everything was dealt with during the morning.".