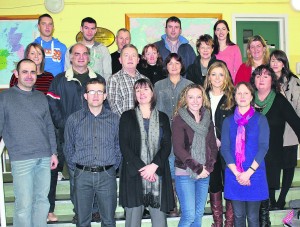 A large number of teachers from primary and secondary schools in Mallow and North Cork attended the latest workshops run by the National Centre for Excellence in Mathematics and Science Teaching and Learning (NCE-MSTL) in Mallow last week. Thirty secondary teachers from Mallow, Buttevant and Doneraile and twenty primary teachers from the Mallow catchment area attended the workshops held at Davis College and Gaelscoil Thomáis Dáibhís respectively.
The collaboration between NCE-MSTL, local primary and secondary schools and the Mallow Development Partnership has just finished the first year of a unique four year programme which is aimed at developing innovative approaches to the teaching of science and mathematics.
In all, twenty schools in North Cork are receiving specialised and intensive inputs from the National Centre. Over the four year project, Mallow will become the incubation hub for new approaches to science and mathematics and the springboard for future national programmes. Specially appointed research staff, supported by National Centre directors and project officers, are running the project in partnership with the schools and their teachers.
This week, Mallow Development Partnership chairperson, John McDonnell, paid tribute to the teachers attending the workshops. "We are very much aware of the time pressures on the professional and personal lives of teachers. That so many of them have committed to this project speaks volumes. We are very grateful to them, their schools and principals for co-operating with this project. As well, NCE-MSTL have had a huge commitment to this project and we would like to acknowledge that very strongly.
"The principal beneficiaries in the long term will be the young people of Mallow and North Cork who, we hope, will be encouraged to take a greater interest in science and maths and put themselves in a position to acquire skills which are convertible in the new knowledge economy", Mr. McDonnell said.
The project is expected in the long term to contribute to the future economic success of the Mallow and North Cork district. The funding for the programme has been sourced through local businesses who are supporting the project.
Said John McDonnell, "This is a very difficult time for businesses and organisation of all kinds, yet we have managed to generate the finance necessary to sustain this project. We would like to acknowledge the continuing support of the Barry Group, Greencore Group plc, Dairygold, Mallow Credit Union, Cork County Council and Mallow Town Council. They have committed substantial resources to this project at what is a very challenging time in the economy. Their encouragement and support is exemplary and is very much appreciated."