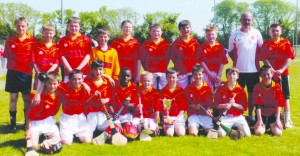 St. Patrick's met Ballyhea on Friday 6th June in Mallow G.A.A. Complex. This was going to be a big task for the Mallow boys who had been beaten the previous week by Ballyhea in the qualifiers. The game started at a very fast pace. Mallow were first to score with a great goal by Darragh O'Keeffe. The Mallow lads kept pushing on with attacking play and this led to a free which was converted by Jack Dillon. Ballyhea had yet to settle which led Mallow to score two more points, the first from Enock Khanyile on his left side way out on the wing, the next from Jack Hadden from the other wing: two excellent scores. Ballyhea mounted a comeback and got a goal and a point and were now settling into the game. Darragh O'Keeffe tagged on another point before half time. The second half began with Ballyhea getting a goal. It was now level pegging. Ballyhea got three more points without reply. St. Pat's began to fight back with a long ball in from Jack Haddon which was flicked on for a goal by Josh Murphy. The St. Pat's defence were working hard to keep Ballyhea out. Eoghan Kenny, Charlie Carroll, Seán Kelly and Ethan Crone were doing sterling work but Ballyhea struck for another point, as did St. Pat's through Michael O'Malley: the sides were level again. The St. Pat's forwards were trying everything to score. Stephen O'Rourke and Seán McDonnell were unlucky with chances but their work rate was impressive. St. Pat's kept on the pressure which led to a point from captain Jack Dillon, but disaster struck when Ballyhea scored a goal from a free. The clock was ticking, it was nearly over with a minute to go. A long puck out by Eoghan Kenny was picked up by Jack Dillon who laid it off to Darragh O'Keeffe and next stop the back of the net. One point up, could they hold out? They did, and added another point from John Murphy. The final whistle went.
The game has to go down as one of the best schools games played in Mallow. The boys played their hearts out and never gave up. Teachers, parents, and supporters were overjoyed for the boys. They have been training every week since Christmas after school and have worked very hard under Seamí Murphy, Seán Horgan and Paul Moroney.
St. Patrick's NS: Charlie Carroll, Seán Kelly, Ethan Crone, Eoghan Kenny, Jack Hadden, Darragh O'Keeffe, Enock Khanyile, Jack Dillon (capt.), Seán McDonnell, Michael O'Malley, John Murphy, Stephen O'Rourke, Stephen O'Flynn, Aaron O'Connor, Colm Flaherty, Seán O'Sullivan, Conor Walsh, Kevin O'Mahony.