An estimated 2,500 adults and children visited the Science and Maths Fair in Mallow on Sunday last, making the event a huge success. Some of the country's top educational and commercial institutions worked with the Mallow Development Partnership and the National Centre for Excellence in Mathematics Teaching and Learning, NCE-MSTL, to hold what was Ireland's first comm-unity-based Science and Maths Fair. Crowds headed to Mallow G.A.A. complex to visit the Fair. About 60 staff from the participating institutions were on hand to demon-strate key scientific and mathematical concepts in a fun context and the children weren't slow to join in.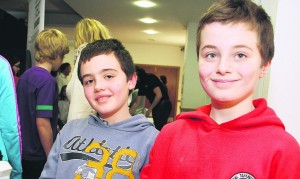 Said John McDonnell, Chairperson of Mallow Development Partnership: "It really was a tremendous success and exceeded all our expectations. It was all about encouraging young people in Mallow and North Cork to get interested in science and maths and it was very clear from the Fair that parents understand how important this can be. Given the response, our hope now is to make this an annual event. We are very grateful to our friends in NCE-MSTL and all the other exhibitors for their work."
Participants in the Fair included: University of Limerick, Intel, Limerick Institute of Technology, Cork Institute of Technology, CIT Blackrock Castle Observatory, The Irish Software Engineering Research Centre (LERO), Mathematics Applications Consortium for Science and Industry (MACSI), Sustainable Energy Authority of Ireland (SEAI), Discover Science and Engineering, and Lifetime Lab Cork.
The Science and Maths Fair was opened by the Minister with special responsibility for Research and Innovation, Sean Sherlock T.D.