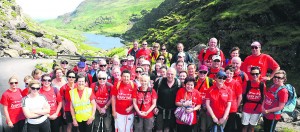 This July, scientists at Cork Cancer Research are putting on their walking boots to lead the annual Kerry Way Cancer Research Walk along with long-time supporters Pat Falvey and Pat Spillane, and organisers Blaithin Kiernan and Pat Murray. Dr. Tracey O'Donovan, Dr. Michelle Nyhan and Dr. Pat Forde are inviting the public to join them on the 70km fundraising walk through the Kerry Way trails from 26th to 28th July, to help them raise the essential funds to complete their innovative research into vital new treatments for cancers that are currently very difficult to treat or are incurable. The team has already brought 5 successful new treatment options to clinicians all over the country, which would not have been possible without fundraising support from events like the Kerry Way Cancer Research Walk, which has contributed over €500,000 to the centre over the past 9 years.
The Kerry Way Cancer Research Walk is a three day guided walk through the Kerry Way trails, featuring impressive mountain views, dramatic peaks and glens, wild moorlands, wooded paths and lakes. Each day there is a different walk; this year's walks include Tahilla to Kenmare via Templenoe (22km), Lauragh to Kenmare, incorporating part of the Beara Way via Lough Inchiquin (26km) and Torc Waterfall, Killarney, to Kenmare via Esknamuckey Glen (17km).   Walkers can decide on how many days they would like to walk, one, two or all three days over this fantastic weekend.
The Kerry Way Cancer Research Walk is open to men and women of all abilities and backgrounds. All walkers must be at least 18 years of age and there is no upper age limit but each walker is expected to be fit enough to complete each walk.   While some people take part with friends, a lot of people come on their own, so it's a great way of meeting new people.  Dr. Tracey O'Sullivan, scientist at Cork Cancer Research Centre, said, "Last year almost 300 people supported the event and this year we are hoping to get many more involved to help us raise vital funds for the centre.  We are calling on the general public to don their walking boots and to come out and support us at what will be a great weekend of walking and camaraderie."
World-renowned adventurer Pat Falvey hopes to see a great turnout at the walk, and adds: "Cancer affects so many people, through their own journey or through someone they know. Taking on cancer is a daunting challenge which requires focus and determination, elements which are also needed for facing other challenges such as climbing Mount Everest, or walking to the South Pole. However, the greatest challenges cannot be faced alone – it is the team supporting you that will help you get through. Just like the team of people that I work with to achieve what many would say is impossible, the Cork Cancer Research Centre brings focus and determination to the challenge of bringing new treatments to cancer patients. I'm delighted to be involved in this event and to lend my name and support as part of the fundraising efforts to combat cancer".
Famous footballer Pat Spillane commented: "There are still too many people affected by cancer, including personal friends and family. The research this walk supports is the kind of cutting edge research that will change that. I am delighted to join the Kerry Way Walk for a third year to raise funds for the Cork Cancer Research Centre, who have already helped so many".
If you would like to take part in the Kerry Way Cancer Research walk this July, would like to volunteer as a walk leader, or simply make a donation to the cause, Lo-call 1890 998 998, visit www.kerrywaycancerwalk.ie, www.hopelives.ie , or see the Kerry Way Walk Facebook page for details.