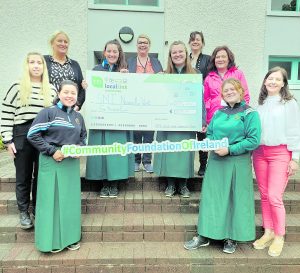 TFI Local Link Limerick Clare coordinate rural transport services in Limerick and Clare and transport passengers to their nearest village or town.
We were delighted to receive funding from The Community of Foundation of Ireland to research how the pandemic affected the transport requirements of pupils and their families.
Some of the key questions included: 'How has Covid – 19 affected the transport requirements of pupils and their families in your school?', 'how Covid – 19 has affected the town's transport needs and what modes of transport exist? Students had to survey the student body and research/propose an environmental friendly model of transport. The students also had to design an environmentally friendly rural bus shelter.
TFI Local Link Limerick Clare are delighted to announce that Scoil Mhuire agus Ide came out on top in the highly competitive TFI Local Link Limerick Clare schools competition that began at the end of 2021.
More eco friendly
SMI received €500 for a school environmental project. The students will install a bike shelter with an electric bike charger in place at their school. This will help their school to become more eco-friendly, and encourage the young people of their school to think about their mode of transport on a different level. The winning solution will also reduce pollution in the area and help their ecosystem and wildlife.
The TY students also proposed and designed an "Environmentally Friendly Rural Bus Shelter" for Castlemahon and they have proposed a very exciting sketch for this development.
TFI Local Link Limerick Clare had a great day at Scoil Mhuire agus Ide for the presentation of the cheque. It was lovely to speak to the TY Coordinators Nessa Harris and Rebecca Phillips and the students who participated in the competition.
The newest addition
Anne Gaughan – Manager of TFI Local Link Limerick Clare, Dearbhla Conlon – Chairperson of the board, Marie O'Connor – Transport Operations Coordinator Limerick and Majella Scanlon – Office Coordinator attended the ceremony and the students had an opportunity to see the newest addition to the Limerick fleet the 520 bus driven by the owner Thomas Brouder.
"Many thanks for the wonderful opportunity this year. The students really enjoyed engaging in the Local Link Competition. This has helped them to work as a team and be creative. We appreciate the prize money and sponsorship of the bus to the wonderful day in Tayto Park," quoted TY Coordinator Nessa Harris.
Dearbhla Conlon – Chairperson of TFI Local Link Limerick Clare was at the presentation of the cheque to SMI School: "I was delighted to meet the winning students of the TY competition from Scoil Mhuire agus Íde in Newcastle West, said Dearbhla Conlon Ahern, Chair of TFI Local Link Limerick Clare. This competition really showed the level of awareness among young people on environmental issues and looking for creative solutions, bringing together their artistic talents and innovative thinking. As a Board of Management, we are acutely aware that TFI Local Link Limerick Clare as a transport specialist has a remit in terms of service to the community and connectivity, but it also has a remit in terms of the legacy it leaves and the impact it makes in an environmental way. These competitions enable us to draw on the rich thinking young people have and plan accordingly'."
Anne Gaughan, Manager TFI Local Link Limerick Clare: "I was very impressed with the high level of innovative thinking in all entries to the TY Competition and congratulations again to the winners from Scoil Mhuire agus Íde, Newcastle West. The completed surveys provided insight of the daily commute to school of the student body and will help form the basis of our strategic plan for 2023. Thank you to all that participated in the competition."
We are looking forward to keeping in contact with the TY Coordinators Neasa Harris and Rebecca Philips and TY students as they continue with their education at SMI Newcastle West. We look forward to visiting the school when the project is completed.
Finally, TFI Local Link would also like to extend congratulations to our runner up schools who received €150.
TFI Local Link rural transport services are an important component of daily life linking people with jobs, education, healthcare, shopping and recreation/tourist facilities. The design of a sustainable transport infrastructure has a fundamental impact on the health and wellbeing of people in the community. It helps address social isolation, improves overall accessibility and provides opportunities for active regular transport and daily physical activity.
Can we help you with your transport needs? Our office is now open to the public and we would be delighted to discuss your transport requirements. You can telephone the office on 069 – 22311 and Catherine, Eilish, or Kalen will send you a timetable.