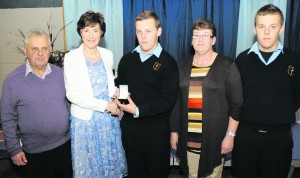 Last Friday evening Scoil Pól held its annual awards ceremony. M.C. for the evening was Mr. Michael Organ. School Principal Mr. O'Hara welcomed all the guests and thanked the award sponsors, Sisters of St Paul, AIB and Bank of Ireland Kilmallock, Mrs Joan McCarthy, Student Programmes Ireland Limited, Mrs Marie Ring, Kilmallock Credit Union, Pat Kelly Scoil Pól, Joe McKenna- Hardware shop in Limerick, M.C.S. computers and Blackrock G.A.A. Mr. O' Hara commented that the variety of awards was testament to the holistic education on offer at the school.
Special guests for the evening were Limerick hurlers Richard McCarthy and Stephen Walsh, both past pupils of the school. In his address to the students Stephen urged them to have belief in themselves and to follow their dreams and not let anyone tell them they cannot achieve what they want. He noted that it is always nice that your old school remembers you and continues to reach out to its former pupils.
He congratulated all the students on their wonderful achievements and he said Scoil Pól's students were encouraged to be the best they could be.
Awards to students for their outstanding results in state exams went to Triona FitzGerald for Leaving Certificate and Ailbe Kiely for Junior Certificate. Triona is now studying medicine at U.C.G.
Richard McCarthy and Stephen Walsh presented student of the year awards to the following: The A.I.B. sponsored L.C.V.P. award was presented to Averil Frewen. Jess Quinn was the recipient of the Geography and Irish Awards. The Sisters of St Paul award went to Lorna Sheehy. Other pupils nominated for this award were Adrian Cooke, Averil Frewen and Aisling Murphy.
Jess Quinn and Lucy McGrath received the award for French. Megan Cleary was awarded the English and the History award.
The Science award was won by Triona FitzGerald. Stephen Penny received the Construction award and Eimear Weeks the award for I.T. The Maths award was received by Ellen Casey while Elaine Rea was presented with the L.C.A. award.
Scoil Pól promotes excellence in attendance. Gold winners for attendance were accepted by Crystal Anderson, Jack McCarthy, Eoin FitzGerald, Tommy Hayes, Seán O'Farrell, Shauna Daly, Michelle Goggin, Rebecca O' Sullivan. Silver were Alana Murphy, Calum Sheehan, Ciarán Meade, Callan Ensor, Brian O' Connell, Gemma Critchley, Emma O'Mahony, Darragh Sheehy, Darren Hennessy, Shauna McLoughlin.
The winners of the Bank of Ireland Art award were Leanne Connery and Michelle Goggin.
Not all the awards on the night were for academic achievement. Scoil Pól is a vibrant school where sport and personal endeavour are rewarded. Sports persons of the year were Dylan Dawson and Katie Hennessy.
E.C.D.L. Certificates were presented to the following students:
Dean Brazill, Heather Carey, Leanne Connery, Marie Curtin, Dylan Dawson, Donnacha Leahy, Ger Leahy, Shane Lyons, Bridgette McGrath, Josette McGrath, Gavin Neenan, Michelle O' Donnell, Nicole O' Farrell, Eimear Weeks.
The school chess teams presented with their medals, recipients were Brian O Keeffe, Padraig Weeks, Jason Kelly, and Tyrone Ryan.
Silver and Bronze Gaisce medals were presented on the night to the following students:
Silver award
Leanne Connery, Eimear Weeks, Josette McGrath, Bridgette McGrath, Josh Watson, Fearghal O'Sullivan.
Bronze Award.
Shannon O Doherty, Matthew Murphy, Úna Sheedy, Shauna Hennessy.
The night was a great success and afterwards, every one enjoyed a chat and refreshments.