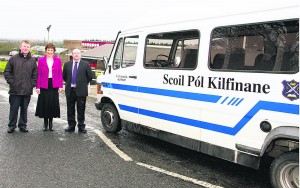 Scoil Pól, Kilfinane students are set to travel in style after the school recently took possession of a new Mercedes 410 mini-bus.
On delivery, local Parish Priest Fr. Mike Hanley was on hand to bless the vehicle to ensure that all students would travel safely to their destination. This is a first for Scoil Pól and reflects the positive future direction of the school. "Our mini-bus will be an enormous advantage for games, L.C.A. and TY outings, and educational trips," commented a delighted Principal Mr. Mike O'Hara. "The mini-bus may also be used to facilitate students who wish to come to Scoil Pól but who currently do not have access to a school bus service," he added.
Any student wishing to enrol in Scoil Pól who is experiencing transport problems should contact the school at 063-91197.