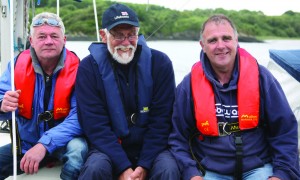 Two Limerick men, Chris Egan and Dave Bevan, both undergoing treatment for cancer, and joined by their friend Gerry Hutton from Dalkey, left Limerick on the May bank holiday weekend on a 30ft Jeanneau Rush to begin a journey around Ireland to raise funds for the Irish Cancer Society and the RNLI. Chris' recovery from non-Hodgkin's lymphoma is being managed by the Mid-Western Hospital in Limerick. Dave has cancer of the colon and took time out during the trip to undergo chemotherapy in the Mercy Hospital in Cork. In fact the trio sailed into Cork City early last month where Dave underwent his final chemotherapy session and then stepped back on the boat again to continue their voyage.
Their journey took them clockwise around Ireland and where they experienced a mixed bag of weather conditions which at times tested their seamanship. Along the north and east coasts they met sunshine and warm winds which brought out the t-shirts and shorts. However along the west and south-east coast they often encountered extremely high seas and occasional gale force winds which meant planning shorter passages and altering destination points to take shelter.
The final leg of their journey took place on Saturday last as they left Kilrush, Co. Clare to sail home to Foynes. They were met on the way by a flotilla from Foynes Yacht Club and Cooleen Point in Foynes was lined with supporters who cheered them as they crossed the finish line. Both men said they would love to do it again but for now they're taking a well deserved rest. They thanked everyone for the support they received and in particular commented on the amazing goodwill of the people they met throughout the country.