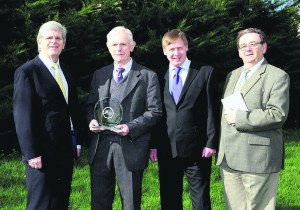 Seamus Crowley of Spa Glen has been selected February Cork Person of the Month to mark his work with the Mallow Field Club Journal. Seamus has contributed 32 articles on local history for the Mallow Archaeological and Historical Society and gives many lectures, all on a voluntary basis.  He has also compiled the index to the first twenty one Field Club Journals and worked with the various editorial committees from 1983 to date.  These Journals cover the history of North Cork and many people now have huge interest in the history of their own place and genealogy, especially since the launch of TV's 'Who Do You Think You Are?'
"The quality of the articles in the Mallow Field Club Journal are truly extraordinary and people like Seamus Crowley and his fellow committee members make a huge contribution in building community by educating people on their roots, local history and archaeology," said awards organiser Manus O'Callaghan.
Seamus Crowley has contributed pieces to the Southern Star Centenary Supplement 'From West Cork to USA and Back', (an account of the life of Jeremiah O'Donovan Rossa), and 'Rocky Mountain O'Brien'.
He also wrote for the Bantry Historical and Archaeological Journal: 'The Abbey – Bantry's Franciscan Friary'; 'The Whites of Bantry – Family Origins', for the Duhallow Magazine: 'A Banteer Miscellany', and for the Mizen Journal: 'Fishing in Bantry Bay (Some Historical Notes).'
Seamus now goes forward, together with the other Persons of the Month chosen this year, for possible selection as Cork Person of the Year at a gala awards lunch next January (2013).