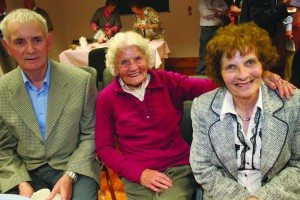 The launch by well known historian and writer Liam Irwin of Sean O'Tuama's publication 'O Chromadh an tSubhachais' took place recently at the historic Old Mill, Croom. The joint editors of this outstanding publication are Una Nic Einri and Milo Spillane.
At the launch, Liam Irwin spoke of the history of Croom, the role that Sean O'Tuama and the Maigue poets played in composing their unique poetry compilation. He spoke of the uncertainties of some of the information from the period of Sean O'Tuama and the Maigue poets in their residency in Croom. Milo Spillane, who translated the Irish content, informed the large gathering of Sean O'Tuama's burial place which is in the old church of Ireland church yard at Church Road Croom. He also spoke of the memorial headstone which is inscribed, John Toomy departed this life on August 30th 1775, aged 67 years. Una Nic Einri spoke on her work in compiling and co-editing the book in which she said it was a great challenge and thanked Milo Spillane for co-editing the publication. John Liston, local historian, chaired the night's event and complimented the editors and the contributors for producing such an excellent publication.
The location of the launch added a nostalgic atmosphere to the launch of the life and times of one of the Fili na Maigh. In attendance on the night were many people interested in folklore and poetry around the Maigueside district. Tea and refreshments were provided following the launch.