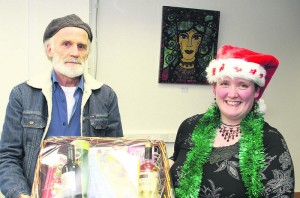 The Mallow Secret Santas have finally been revealed and almost €500 was raised for the local St Vincent de Paul. The Santas were former Mallow Chamber President Pat O'Sullivan, Mallow Star journalist and athlete Steve Murphy, Chamber President Mary Kelly, local butcher and musician Ian Lucey, and interior designer Maura Hunter. The Christmas Exhibition and SVP Fundraiser event at Spiralli Art Gallery was a great success with Mallow dignitaries, business people and attending artists in attendance. Lots of craic was had and the winners of the competition were treated to various prizes donated by local businesses. The competition entry fee was a donation of a new toy or a money donation of any value. Donations ranged from €5 to a surprising number of €50 donations.
The response and support from local businesses showed enormous community spirit and Spiralli, the organisers of the event, would like to thank Costurama.ie, Mallow Printing Works, Herlihy's Centra, Springfort Hall Hotel, Ellie's Oven, John J. Sheahan and Co., Cork Racecourse Mallow, AIB Mallow, Luna Bella, Sugrue Electronics, Horgan's Pharmacy and Walsh's Pharmacy. "We are delighted at the amount of support we received from local businesses and want to thank them most sincerely for their assistance. A big thank you to everyone who entered the competition. A community coming together to help one another is vital to the health of a community when times are hard. When we heard that some of the local people in need were business people who'd recently closed down and had to turn to organisations like SVP for help, we had to do something. We know how hard it can be." said Niamh.
Artists and photographers currently on display at the Spiralli Gallery include Tommy Curran, Karen Billing, Maree O'Sullivan, Mel O'Dea, Brid Coakley, John Hooton, and Niamh O'Donoghue. Viewings can be arranged by calling 022-55002.