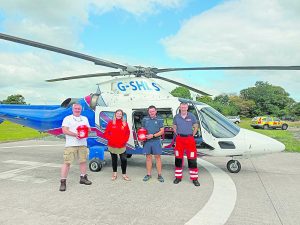 Pat Spratt and Fr. Eugene Baker, both from Buttevant, will take on a challenge of climbing the seven highest peaks of Munster to raise funds for the Irish Community Air Ambulance based at Rathcoole, Millstreet. The climbing will take place from Monday 12th to Friday 16th September this year. Both men enjoy hill walking and mountain climbing, having con-quered most of the highest peaks of Ireland.
Pat and Fr. Eugene invite experienced climbers to join them for any stage of the seven climbs. They appeal for funding towards the worthy cause of the Community Air Ambulance, which is a vital and highly efficient service in so many emergencies in our area. A Go Fund Me page has been set up for the event and can be found on www.gofund.me/1fc0a03a. All donations made on this page go directly to the Air Ambulance Funds.
A launch night has been organised to get the funds rolling in with a barbecue and music at O'Neill's Bar, Main St, Buttevant next Saturday night September 3rd beginning at 8pm. They hope to have lots of people come and join them for the night.
The schedule for the climbing challenge is as follows:
Monday 12th September Galtymore (3,012ft) starting from Coola-garranroe Car Park (not Kings Yard) at 11am.
Tuesday 13th September Mangerton Mountain (2,479ft) starting from Gortagullane Upper Car Park at 11am.
Wednesday 14th September Mount Brandon (3,123ft) starting from Faha Car Park at 11am.
Thursday 15th September Baurtregaum (2,760ft) starting from Derrymore Bridge at 11am.
Friday 16th September Caher (3,300ft) Been-keragh (3, 308ft) and Carrauntoohil (3,407ft) starting from Hydro Road Car Park at 11am.
Launched in July 2019, the Irish Community Air Ambulance provides Ireland's only charity Helicopter Emergency Medical Service (HEMS). They are tasked by the National Ambulance Service and operate during 'daylight hours', 365 days a year, from their base in Rathcoole. Since then, the crew have been tasked over 1,300 times, costing up to €3,500 per flight. The Air Ambulance is staffed by a team of Advanced Paramedics and Emergency Medical Teams from the National Ambulance Service, together with pilots. They treat some of the most critically ill and injured patients, bringing them to the hospital that is best suited to their medical needs, not just the closest geographically. They rely heavily on the fundraising efforts and generosity of dedicated supporters to provide this service. The Seven Peaks Challenge hope to make lots of funds to help this vital service.