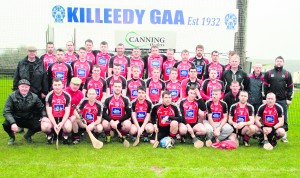 Shanballymore……………………………………………………………………………………………..1-12
Eire Og (Annacarty)………………………………………………………………………………………2-9
This Munster Junior B HC Final at Killeedy on Sunday was keenly contested all through. The game, played in good ground conditions, went down to the wire, with a late goal for the Tipperary side earning a replay.
Shanballymore had the aid of the strong wind in the first half. Colman O'Reilly worked well for Paul Burke to open the scoring. Shanbally moved two points clear when Miceal Burke cut through, placing James Hayes who was fouled and Jamie Sheedy pointed the free. Eire Og came close to a goal early on through long serving John Quinn who was denied by a massive interception by Eoin McHugh. McHugh came a second time to his side's rescue when denying danger man Michael McGrath who bore down on goal. By the 12th minute Eire Og were level with points by Willie O'Neill and Damian O'Brien (free). The West Tipperary side made a few good runs but were off target. Good play by Brian O'Reilly and Jonathan Dennehy led to a great Colman O'Reilly lead point. The Avondhu side did well in the half backline and their attack was in regular supply. A foul on Paul Burke led to a fine pointed free by Jamie Sheedy. Both sides were off target before Jamie Sheedy with a free opened up a 3 point lead in the 19th minute. Patrick Aherne was wide from a long range free for Eire Og. In the 23rd minute Shanballymore opened up a four point lead when Brian O'Reilly and Jerome Fitzgerald worked a good movement that led to a fine point by Colman O'Reilly. Eire Og rallied well. Sean Breen and Willie O'Neill were very effective and they were back in the hunt when Damian O'Brien placed Michael McGrath for a 25th minute goal. Further pressure saw Eire Og finish well. A long range free by Patrick Aherne was gathered by John Quinn but well cleared by Declan Fitz-gibbon. Michael McGrath forced level with a point. Shanballymore missed two chances with John Ryan placing John Quinn for a point. In injury time Damian O'Brien with a free gave Eire Og a two point interval lead 1-5 to 0- 6.
Shanballymore moved Brian Sheedy to midfield with Miceal Burke going to centre forward. They had the perfect start. Jamie Sheedy and Brian O'Reilly won possession from the throw in and placed Miceal Burke for the opening point. Shanballymore should have goaled when Miceal Burke put Colman O'Reilly through but the goal-bound effort from close range at an angle went narrowly wide. John Quinn placed Eire Og's Sean Breen who pointed. In the 33rd minute a puckout by Declan Fitzgibbon found Miceal Burke who placed Brian O'Reilly for a well executed goal. Impressive Sean Lynch with a long delivery found Brian O'Reilly who sent over. Paul Burke was denied a goal by Garret O'Brien. In the 45th minute a free by Jamie Sheedy to Miceal Burke opened up a two point lead. Brian O'Reilly followed with a great point after a solo run. Sean Lynch made a vital interception from Sean Breen as Shanballymore were put on the defensive. Sean Breen struck a very good point. In the 52nd minute Jerome Fitzgerald won a massive high ball amid a cluster of hurleys and struck a great point, giving his side a 3 point cushion. In the 55th minute Patrick Aherne pointed a '65, keeping his side in touch. Shanbally seemed to have done enough when Jonathan Dennehy and Brian Sheedy won a vital ball out on the sideline in midfield. The pass went to Jamie Sheedy who struck a marvellous point. Deep in injury time Eire Og forced a 65 taken by Patrick Aherne. Aherne mis-hit the ball and at a second attempt he took the free. The referee, having heard the crowd roar, checked with his linesman and the free was retaken. On this occasion it dropped into the area and in a last gasp effort Michael McGrath struck on the ground to the net for an equalising goal. Six minutes of extra time were played. In the dying moments Colman O'Reilly passed to Kenneth Barry whose effort at a point went narrowly wide and so followed the final whistle.
Scorers for Shanballymore: Brian O'Reilly 1-2, Jamie Sheedy 0-4 (0-3f) Colman O'Reilly 0-2, Miceal Burke 0-2, Paul Burke 0-1, Jerome Fitzgerald 0-1.
Eire Og: Michael McGrath 2-1, Damian O'Brien 0-3 (0-2f), Sean Breen 0-2, Patrick Aherne 0-1 '65, Willie O'Neill 0-1, John Quinn 0-1.
Shanballymore:
Declan Fitzgibbon, Richard Burke, Eoin McHugh, Alan Sheedy, Jerome Fitzgerald, Sean Lynch, James Hayes, Miceal Burke, Darren Roche, Brian O'Reilly (Capt) Brian Sheedy, Jamie Sheedy, Paul Burke, Jonathan Dennehy, Colman O'Reilly. Subs: Padraig Fitzgerald for Darren Roche (inj) Kenneth Barry for James Hayes.
Eire Og:
James O'Dwyer, Michael Fox, Garret O'Brien, Gearoid Lough-man, Cathal Coughlan, Patrick Aherne, Michael Bradshaw, Sean Breen, Michael O'Brien, Michael Murphy, John Ryan, Willie O'Neill, Damian O'Brien (Capt) John Quinn, Michael McGrath. Subs: Josh Quinn for Michael Murphy, David Breen for Willie O'Neill.
Referee:
John Healy (Smith O'Brien's).