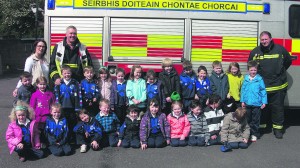 There was great excitement recently when our junior and senior infant classes headed off on their school tour. An action-packed day was planned which began with a visit to Mallow Fire Station. Here the children were greeted by firefighters, Tony and Jonathon. They gave a very informative talk to the children about their work in helping to save people's lives. The fire-engines were pulled out and the children were shown all the things that are used in a firefighter's daily work. It was a thrilling exper-ience for the children to be able to use the hoses, hear the sirens and get to sit in the fire-engine and have their photos taken!
Next stop was the Donkey Sanctuary, Liscarroll. Here we were greeted by Mr. Paddy Barrett and his wife, Eileen. The children were taken on a walking tour of the Sanctuary and met the youngest addition to the family of donkeys, a newborn foal named Tara, who was only nine days old. Mr Paddy Barrett paid a visit to the school the previous week and showed the children a power-point presentation. This certainly made the visit to the Donkey Sanctuary more meaningful.
After a picnic at the Sanctuary, we all headed to the playground in Liscarroll for lots of fun on the slides and swings. Thank you to teachers Fiona Hannon and Siobhan Shinnick and SNA Eilish Burgess who accompanied the children on the day. Special mention must also be made to George Murray of Murray's Coaches who supplied the bus transport. A great day was had by all.