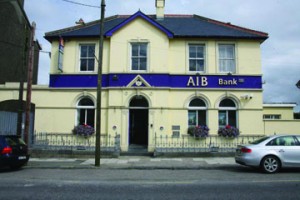 Shock waves are reverberating around County Limerick and North Cork this week following the announcement by AIB of the closure of a number of branches locally. The announcement coincided with the publication of the bank's preliminary interim results for the half year ended 30th June 2012 which reported a loss of €1.1 billion.
The planned restructure includes the closure of the A.I.B. branches at Croom, Dromcollogher, Hospital and Buttevant. In a statement issued on Friday, the bank said AIB had undertaken a review of its retail operations as part of the wider transformation and cost reduction programme currently underway in the bank. The review identified that changes in population and customer banking usage as well as improvements in technology had led to a fall in demand for traditional branch services.
Under the proposals Buttevant will close later this year with services transferred to Charleville, Dromcollogher will also close in 2012 with services transferred to Newcastle West. The offices at Croom and Hospital will close in 2013 with services transferred to Adare and Kilmallock respectively.
To counteract the impact on local services, the bank announced what it called an enhanced agreement with An Post whereby, from late October, AIB customers in affected areas will be able to lodge cheques in designated post offices in the vicinity of closing branches. This is in addition to the current facility for lodging and withdrawing cash using AIB Debit/ATM cards and paying AIB credit card bills. These services will be available in post offices six days a week.
AIB also announced the launch of four mobile banks offering services such as cash, coin and cheque lodgements, cash withdrawals, bill payment and a foreign exchange order /collection service.
Businesses, farmers, public representatives and communities across Limerick and North Cork have expressed serious disappointment and shock at the scale of the proposed closures and public meetings have already taken place in Buttevant and Dromcollogher to discuss the matter. It is likely that over the coming weeks resistance to the proposals will grow, as full implementation will see whole swathes of country without banking facilities. See page 28.