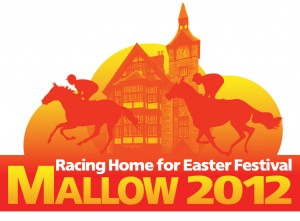 The organisers of Mallow's Racing Home for Easter Festival are urging businesses in Mallow and surrounding areas to once again show their support for the upcoming event on April 7th, 8th and 9th. The 2011 event was a huge success with colourful street entertainment, live music, food and craft fair as well as 3 days of horse racing at Cork Racecourse Mallow. The annual race meeting sees thousands of racegoers descending on Mallow and surrounding areas for the bumper weekend.
The plans for 2012 include 3 performances by the internationally renowned Macnas on Easter Saturday, the return of the Easter Sunday food and craft fair which continues to grow year on year, and more street entertainment over the entire weekend such as bouncing castles, trackless train, bungee trampolines, facepainters, acrobats and more.
The festival has remained in the headlines over the past 12 months as it was nominated for Festival of the Year at the annual Excellence in Local Government Awards, held by Chambers Ireland for the co-operation shown between Mallow Chamber and Mallow Town Coun-cil to facilitate the 3 day event.
Festival chairperson and Mallow Chamber Pres-ident, Mary Kelly, says, "Our plans for 2012 really are huge. This is the biggest single opportunity we have to push our town and all we have to offer. It has been proven over the past 2 years that the festival attracts people to Mallow and provides a much needed economic boost for local busi-nesses."
The call for partners and friends of the festival is on again, with all offers of sponsorship welcomed by the committee. "We are delighted that Cork Coun-ty Council has rowed in behind the event, providing finance for local marketing camp-aigns, but by no means is the festival rolling in money, sponsorship and contributions continue to provide the backbone of the festival," says festival vice-chairperson Pat O'Sullivan.
The last 12 months have been extremely busy for the festival committee, the festival website www.racinghomeforeaster.ie has been redeveloped and will be constantly updated with information for visitors, such as accomm-odation offers, restaurant deals, the list of events over the 3 days and what they can see and do around Mallow. "We want Mallow to be associated with Easter," says Mary Kelly. "Families can come to our town and find free entertainment, great value accommodation packages, live music, 3 days of great racing and they are helping the local economy and to keep people in jobs too. We think it's a win/win situation."
The festival is looking for 'partners' and 'friends' to show their support. Pat O'Sullivan says, "We would be hoping that larger companies would be in a position to contribute a few hundred or even a thousand euro to the festival, but last year we were over-whelmed by the support offered by smaller businesses and even individuals of €50 or €100. All the money will go towards a hectic programme of events over the Easter Bank Holiday weekend."
The Racing Home for Easter Festival will also be holding a flag day on Saturday 28th January.
Major partners of the festival who have re-committed to the 2012 event include Fáilte Ireland, Irish Rail, Cork County Council, the Mallow/Vale Star newspaper and C103 (media partners), Mallow Town Council, Mallow Chamber, Mallow Vintners and Knight's Spar and Carry Out, Ballydaheen.
Speaking about the support of the Vale/Mallow Star as media partners for the festival, Mary Kelly said, "We established a great work-ing relationship with the Mallow and Vale Star last year and look forward to developing that in 2012. It was a great way to keep people in Mallow, Charleville and surround-ing areas up to date on a weekly basis with the latest developments, as well as giving us an opportunity to print the entire 3 day programme of events, so people knew exactly what was on offer in Mallow over the 3 days of the festival."