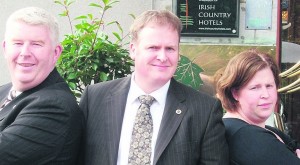 Brother and sister duo David and Elaina Fitzgerald of the Woodlands House Hotel in Adare are the first siblings to lead neighbouring chapters in the networking organisation BNI International. Well used to working in harmony in their roles as general manager and sales director for their own hotel business, assuming the helm of their respective BNI Chapters could introduce a competitive element to their interactions as opposed to the co-operative ethos that's a given in their family-run business. Both joined BNI for the same reason – to broaden their networking base and to spread the word about the hotel's many attributes. David joined the Treaty Chapter in Limerick in October 2008 while Elaina joined the Desmond Chapter, Newcastlewest, Co Limerick on its initiation in April 2010.
The Fitzgerald family is renowned for getting 'stuck in' and making things happen. David and Elaina have done just that in BNI. David was a visitor host in 2009 and a membership co-ordinator in 2010, before becoming chapter director in October 2011. Elaina has been similarly active: a visitor host in 2010, a membership co-ordinator in 2010 and chapter director since November 2011. They both enjoy BNI – for meeting new people, for the fun, the business but most of all, for sharing ideas.
Their chapters are similar in size:  Treaty has 24 members and Desmond 28. Their views on leadership are similar. David says it's about bringing people together to maximise the benefit to the whole group.
While their chapters are quite different in make-up – Elaina's is very rural, with membership drawn mostly from West Limerick, and David's is a mixture of Limerick city and county, and county Clare – their general view is that rural people look out for each other better so a BNI chapter in a rural area can definitely benefit from this, while city-based chapters have lots of different influences. Both are equally effective if driven enthusiastically. David and Elaina epitomise what's great about BNI – helping fellow members and each other. "There are so many benefits to be gained from working together to build our respective chapters. BNI has helped us introduce an element of personal rivalry in our leadership roles, both in our family business and in our chapters. It helps us set our sights higher and continually seek new challenges. If our efforts, as leaders of our chapters, can generate more business for our collective membership of 52 companies and for Limerick then we'll feel we've done our job well," adds David.