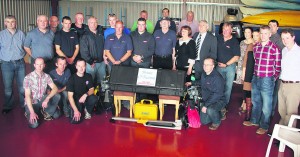 Mallow Search and Rescue Unit last Sunday received a generous donation of a boat side scanning sonar unit to assist on the water in the search and recovery of missing persons. It is expected that this import-ant piece of equipment will dramatically reduce the amount of time taken for underwater searches for missing persons. The acquisition of the side scanning sonar has been made possible through a generous donation by the Brían O'Tuama Fund. The equipment has already been used in the recovery of a missing person, less than 24 hours into the search of an area of water where previous successful searches have taken several days or weeks. Colman O'Tuama, his wife Anne and children Justin, Clodagh, Aine and Colman visited the headquarters of the Mallow group on Sunday, and Colman spoke movingly of the death of his son Brían through drowning and how the family was delighted to present Mallow Search and Rescue with the sonar scanner. Brían O'Tuama from Baile Bhúirne was a second year student in University College Cork and drowned in the River Lee on 23rd November 2009 in a tragic accident. Brían was found by members of Mallow Search and Rescue Unit after a number of days searching. The Brían O'Tuama Fund was set up by the O'Tuama family with the aim of keeping Brían's memory alive. The fund previously donated a boat to Mallow Search and Rescue and with the donation of the side scanning sonar the value of equipment donated by the Brían O'Tuama Fund to Mallow Search and Rescue Unit exceeds €45,000.
The Side Scanning Sonar Unit works in the following way:
• Towed behind a boat in a search area, it creates an image of large areas of the sea/river bed.
• It is commonly used to detect debris and other obstructions on the seafloor that may be hazardous to shipping or to seafloor installations by the oil and gas industry.
• The use of side scan sonar in the search for missing persons in water allows an underwater picture of the area to be analysed so that a person can be found more efficiently.
• Objects of interest identified by the side scan sonar can be investigated by divers, allowing more focused searching by divers.
• Mallow Search and Rescue is the only voluntary unit in the country to have this model of side scanning sonar which is specifically designed for identifying casualties in water.
Mallow Search and Rescue Unit is a voluntary search and rescue organisation based in Mallow. It comprises about 40 members who freely give their time to participate in water searches for missing persons. It is a registered charity and depends completely on voluntary donations to complete its work. The main source of income for the unit is a river raft run from Mallow to Killavullen held each Spring. The unit is located between the Church of the Resurrection and Mallow Bridge, next to the Arches bar. Further Information on the unit, contact John Woulfe 087 6353850. To donate to the Brían O'Tuama Fund or to find out more about it, log on to www.brianotuamafund.com