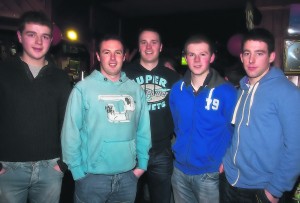 There was plenty of silverware to toast when the players and members of Dromin-Athlacca G.A.A. club got together last Saturday night at Liam Ryan's Bar to celebrate the achievements of 2011. On the table were the South and County Under 21 A hurling trophies as well as the All County Inter-mediate Hurling League trophy.
By any standards it was a hugely successful year and augers well for the future as the U21 side made it back to back successes in the South and County championships. While disappointed to lose to Effin in the county inter-mediate championship semi-final, the mood of the evening was buoyant with everybody supportive of Effin's quest to add the All-Ireland title to their success in the Munster championship. The intermediate side did enjoy success in the very competitive All County Intermediate League when they defeated Knockaderry in a replay after two top quality games of hurling.
Pride of place was reserved for the young men of the U21 side for completing the back to back successes. In the South Limerick Under 21 A hurling championship, Dromin/Athlacca laid their title on the line, first to Croom and then Glenaree Gaels both of whom were overcome to set up a semi-final meeting with Blackrock. Victory over the Rockies set up a final meeting with fancied Hospital-Herbertstown and calling on their experience from 2010, the young men of Dromin-Athlacca prevailed.
It took a replay to see off the challenge of Mungret in the semi-final and it took a late point from play to overcome Allaughaun Gaels in a very exciting county final.
Limerick and Kilmallock hurling star Graeme Mulcahy was guest on the evening and he presented the South and county medals to the panel comprising of James McManus (capt.), John Hayes, Patrick Lynch, Patrick O'Donoghue, George Mullins, Maurice Geary, Raymond Barron, Michael McAuliffe, Chris Riordan, David Reidy, Tom Breen, Ian Fox, Peter Lynch, Andrew Barron, Niall Collins, David Lenihan, Robbie Finn, David Mullins, Michael Reidy and Peter Ryan. Selectors were Tom O'Connell, Peter Ryan (Snr.) and Pajoe Lynch.
At the end of the evening, club chairman, Mark Moynihan thanked the club's sponsor and everybody who supported the club financially and otherwise during the past year. Mr. Moynihan made a presentation of a cheque to Graeme Mulcahy who with his Limerick and Kilmallock colleague Gavin O'Mahony will leave for Ethiopia later this month. Graeme and Gavin are travelling to that country with the official G.A.A. charity 'Playing for Life'.