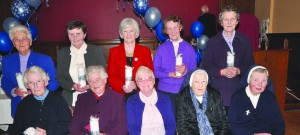 It was the end of an era last week when the Sisters of Mercy bade a final farewell to Rathkeale. Crowds thronged into St. Mary's Church on Wednesday evening last for a special thanksgiving Mass and celebration in advance of the remaining three sisters in the local St. Anne's Convent departing on Friday. The parish was united in a show of gratitude for the contribution for the Mercy Sisters to the town and the community since they first arrived in 1850. Up until Friday, just three of the community remained in the town, Sister Jerome Darcy who came to Rathkeale in 1958, Sister Joseph Conway who has been at St. Anne's for 25 years and Sister Mary Galvin who was leaving after nine years. Sister Jerome and Sister Mary are moving to the Community's house in Westbourne in Limerick city while Sister Joseph is moving to Mount St. Vincent, O'Connell St., Limerick. The three Sisters were joined for the Mass and celebration by other members of the community who had served in Rathkeale down through the years.
Local parish priest, Fr. Alphonsus Cullinan was chief celebrant at the concelebrated Mass at which many priests who had ministered in Rathkeale and Fr. Tony Mullins, the Diocesan Administrator took part. Five musical ensembles performed during the Mass, the parish choir, the choir from Colaiste na Trocaire, St. Anne's National School Choir, the folk group and Rathkeale Brass Band.
Sister Therese Barry of the Order's Provincial team in Naas gave an address of welcome while Sister Phyllis Moynihan, the Order's local leader provided an address of thanks at the conclusion of the celebration.
After the church celebration, the sisters were recipients of a number of presentations at Rathkeale House Hotel from groups and organisations in the parish. The community presented each nun present and who had served in Rathkeale with a specially commissioned candle bearing a photograph of the convent and her own individual name. The sisters also received a painting of the convent by the Barrett sisters, Charleville. The Brass Band and Colaiste na Trocaire also made presentations.
Speaking on behalf the Sisters on Thursday, Sister Mary Galvin reflected on what was a moving celebration the previous evening "What really impressed me most was the appreciation that the people of Rathkeale have for the Sisters of Mercy and the work that they have done here in this parish and the school. It was a great tribute from them and even though some of our Sisters who worked here have now gone to their eternal reward, they were also included in that appreciation because there were so many who really helped. It is with a great sense of hope, I think, that we all leave Rathkeale because we know that the work of the Sisters of Mercy that began here will continue now with the lay teachers and community".