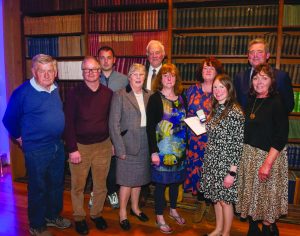 Congratulations to Slí Eile Farm, Churchtown, Co. Cork who were the recent recipient of the 2022 RDS Rural Social Impact Award. Slí Eile was founded in 2006 to support people suffering from mental health issues.
In 2013, the organisation moved to Burton Park, a 17th Century manor house and 50-acre organic farm. The general business model at Slí Eile is to provide a social enterprise for the tenants participating in its programme. The farm and facilities allow people to gain new skills in organic vegetable growing and baking, with goods sold at local shops and supermarkets, while also providing a structure to their day.
Slí Eile also run a very successful Saturday market for local traders and their own vegetable and bakery products. This market provides a social meeting place for the local community has helped educate the local community about mental health issues.
The RDS Spring Awards are a rare occasion in which farmers across all sectors come together to celebrate all they have achieved. With an overall prize fund of €29,000, the RDS Spring Awards celebrate and promote the principles of climate-smart agriculture. A thriving rural Ireland is as central to the RDS mission today as when the Society was first founded.
Now in their sixth year, the awards continue to grow and evolve to capture the diversity of the agriculture sector in Ireland.
In 2018, Slí Eile took home the National Organic Food award for their Organic Farm Vegetables. With the methods they use in gardening, and the skill of their workers and volunteers, it's no surprise that this wonderful community is no stranger to awards. The crowds at the Saturday morning market are a testimony to the quality of the produce. It's also great fun! Musical performances, arts and crafts and food stalls, all add to making the market one of the most popular in the area. .
Jess Angland, CEO of Slí Eile told me "We are delighted to have won the award. It means a lot to the staff, tenants, and community . Community support and collaboration is really important to us. We have also been awarded a grant this week by mental health Ireland and government to help reduce the stigma of mental health and provide training in trauma informed care as well as WRAP ( Wellness Recovery Action Plan) training, which is training all about how to keep yourself well, open to local community members and professionals in north cork.
This publication is a big fan of Slí Eile, recognising all the work that it has done in the local community. We congratulate the team on their tremendous success and wish them all the best in their future endeavours.