Munster Post Primary Schools Senior Hurling B Final: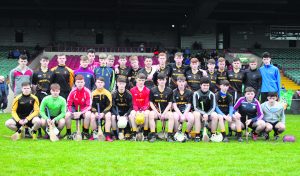 JOHN THE BAPTIST,  COMMUNITY SCHOOL,  HOSPITAL……………………………………….1-19
RICE COLLEGE, ENNIS………………………………………………………………………………………………..3-7
John the Baptist School, Hospital, were crowned Munster Post Primary Senior B Hurling champions and took custody of Corn Thomáis Mhic Cholim following a comprehensive victory over Rice College, Ennis, in the Gaelic Grounds on Saturday.
The final scoreline flatters the vanquished and does scant justice to what was a consummate performance of high work rate, intensity, passion and skill by a well primed John the Baptist side. Two of the Ennis goals came in the last couple of minutes at a time when the victors were already switching into celebration mode.
Rarely has a side dominated a final to the extent that John the Baptist did in the wide open spaces of the Gaelic Grounds on Saturday.
A diamond around the middle of Tipperary minor Paul O'Heney at centre half back, Limerick minors Michael O'Grady and Dylan O'Shea at midfield and Paudie Maher at centre half forward exerted a vice like grip on proceedings from the first whistle and those around them responded in what was a performance near to prefect. O'Shea was in irresistible form both from dead ball situations and open play and ended the contest with eleven points to his name. The Garryspillane man clinically punished all Rice College indiscretions from all angles and distances.
"We expected it to be nip and tuck all the way. Looking at form coming into the game, we beat Glanmire by two points and Rice College beat them by one, we expected it to be a lot closer than it turned out to be and maybe more comfortable than the scoreline shows" was how David Balfry, who with Michael Martin and John Devereux have master-minded the team's success, summed up the game.
John the Baptist, despite hitting some early wides, hit the ground running from the start, something that pleased their management team. "We told them they would have to come out with all guns blazing and in fairness to the boys they did. We hit a few early wides but the lads kept plugging away and their class came to the fore and after fifteen minutes they began to show what they were really capable of. I was a small bit concerned about the wides but you are better off being in a position of hitting a few wides than the other way around because at least we were getting the chances and getting into position," Balfry said.
The concession of three second half goals will be of some concern to the winning camp but may serve as wakeup call as the face into the All-Ireland series early next month. "These lads are all under 181/2 and these are lessons they are going to learn and we are going to learn. The fact that we came through those scares will mean a lot going forward," David Balfry insisted.
Rice College battled bravely on a day when they lost most of the individual battles around the pitch. Team captain Allan Culligan, Cian McInerney and Bradley Higgins battled bravely around the middle trying to wrest some measure of parity in the middle third from the rampant Limerick school. Matthew Davenport added energy to the cause after coming on late in the first half but for the most part the Clare college were on damage limitation.
Points from Eoin O' Mahony, Seán Teefy and Dylan O'Shea helped John the Baptist into an early lead but a long range effort from Cian McInerney quickly followed by a Conor Tierney free left the minimum between the sides, 0-3 to 0-2, after 12 minutes. In that opening spell wayward shooting in the first half in the semi-final win over Dungarvan CBS resurrected as the Hospital school missed the target on five occasions.
Dylan O'Shea grasped the game by the scruff of the neck and hit five points in a row and Ryan McCarthy-Tobin and team captain Paudie Maher added one apiece without reply allowing the winners to open up a 0-10 to 0-2 lead.
Two Conor Tierney frees kept Rice College in touch at a distance before John the Baptist finished the half strongly with points by O'Shea, Brian O'Grady and Ryan McCarthy-Tobin and a cracking goal from midfielder Michel O'Grady who careered down the left and hit a powerful shot that gave goalkeeper Eamonn Foudy no chance. Half time: John the Baptist 1-13, Rice College 0-4.
Rice College were thrown a lifeline within a minute of the restart after Conor Tierney's free took a deflection off a defender's stick and ended in the John the Baptist net. Substitute Matthew Davenport added a point and briefly the green shoots of a revival appeared to be taking root.
O'Shea and Tierney traded points before John the Baptist recaptured their rhythm and hit three in a row from O'Shea, Eoin O'Mahony and Paudie Maher to lead by eleven, 1-17 to 1-6, as the game entered the final quarter.
A Conor Devitt point for the Clare side was trumped by a Dylan O'Shea double as the game entered the final five minutes.
Rice College to their credit battled to the very end and were rewarded with two late goals one from Mathew Davenport in the 57th minute and from a Cian McInerney free in the second minute of time added to put a slightly better look on the final scoreboard.
Scorers: John the Baptist: Dylan O'Shea 0-11, 7fs, 1-65; Michael O'Grady 1-0; Eoin O'Mahony, Ryan McCarthy-Tobin, Paudie Maher 0-2 each; Seán Teefy, Brian O'Grady 0-1 each.
Rice College: Conor Tierney 1-4, 1-3fs; 1-65; Cian McInerney, 1-0f,  Matthew Davenport 1-1 each; Conor Devitt 0-1.
John the Baptist School: Brian Heavey (Garryspillane); Mark Quinlan (Garryspillane) Conor Phipps (Emly) Kyran O'Donnell (Pallasgreen); Brian O'Grady (Kilteely-Dromkeen) Paul O'Heney (Emly) Kevin Bonar (Bruff); Michael O'Grady (Knockainey), Dylan O'Shea (Garryspillane): Eoin Sheehan (Garryspillane), Paudie Maher (Patrickswell) Captain, Seán Teefy (Ballybricken-Bohermore); Tadhg Leddin (Hospital-Herbertstown), Eoin O'Mahony (Garryspillane Ryan McCarthy-Tobin (Garryspillane).
Subs: Bradley McNamara (Bruff) for Leddin (40), John O'Donnell (Pallas-green) for McCarthy-Tobin (54).
Rice College: Eamonn Foudy (Inagh-Kilnamona); Rory Brennan (Eire Og), Aaron Moloney (Kil-maley), Cathal O'Halloran (Clooney-Quin; Conor Devitt (Kilmaley), Bradley Higgins (Kilmaley), Conor Kearns (Doora-Barefield); Cian McInerney (Inagh-Kilnamona), Alan Culligan (Clooney-Quin), Captain; Eoin Fitzgerald (Inagh-Kilnamona), Cillian Roughan (Inagh-Kilnamona), Morgan Garry (Ballyea); Conor Tierney (Doora-Barefield), Oisin Cahill (Kilmaley), David Moloney (Kilmaley).
Subs: Matthew Davenport (Inagh-Kilnamona) for D. Moloney (27), Paul Hogan (Clooney-Quin) for Roughan (44), Conor Hehir (Doora-Barefield) for Kearns (60),
Referee: Fergal Horgan, Tipperary.