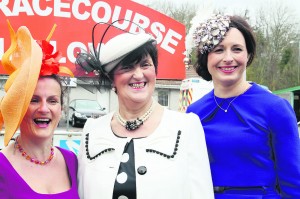 "Everyone in Mallow was smiling on Easter Sunday." These are the words of blogger Mark Graham of 'A Year of Festivals in Ireland', who is making it his mission to attend at least 3 festivals a week in Ireland. He was just one of thousands of people who attended Mallow's Racing Home for Easter Festival over the Bank Holiday weekend and gave it a resounding thumbs up. Mark attends festivals around the country and blogs about his adventures, and he really enjoyed his experience in Mallow. "I got such a warm welcome in Mallow," he said. "Everybody was in such great form, I love heading a little off the beaten track, it's usually much more enjoyable."
The annual 3 day Easter race meeting at Cork Racecourse Mallow is the cornerstone of the town's Racing Home for Easter Festival, which overall injected over €750,000 into the local economy. "The hotels, B&Bs, pubs and restaurants were all packed over the weekend," says festival chairperson and Mallow Chamber President Mary Kelly. "There were thousands of people racing, lining the streets enjoying the free music, street entertainment, attending the food and craft fair and of course, enjoying the action at Cork Racecourse."
Mayor Dan Joe Fitzgerald agrees. "Why would people leave Mallow for Easter when we were bringing Macnas, Cork Circus performers, amusements, pet farms and more to them, and most of it for free? We were delighted to also welcome lots of people from abroad, the UK, USA, Canada, Switzerland and even a German journalist who was covering our event for his newspaper to our town, for the weekend."
Hundreds of people lined the town's streets from midday on Easter Saturday to enjoy live music from such acts as Deuces Wild, Hank Wedel and the Southern Bluegrass Revival, There was a 36 foot crocodile tunnel, bouncing castles, carousels and a bungee trampoline for the kids.
Almost 300 people turned up at Mallow Castle to see the last, and most visually stunning, of 3 performances by internationally renowned group Macnas on Easter Saturday evening, while again thousands of people attended the Easter Sunday Food and Craft fair, which, with over 70 stalls, was the largest ever held in the town since the festival began 3 years ago.
Glamour and fashion was on the agenda at Cork Racecourse Mallow, with TV3 star Karen Koster looking stunning as she crowned Ann Nash of Castlemahon, County Limerick the winner of a €1000 voucher for Luna Bella Boutique. Ann's monochrome dress and jacket clearly caught the TV presenter's attention. The very dapper Michael O'Riordan was a popular winner of best dressed gent. The Mourneabbey man is still recovering from being critically injured when he was on a bus which crashed in Cambodia last August. He was rewarded for his efforts with a €500 voucher for Fitzpatrick's Jewellers.
The traditional April showers managed to stay away until Easter Monday, but despite the rain, 400 mummies, daddies and children embarked on the 10km family fun cycle. "The festival as a whole was a huge success," says Mary Kelly. "It was definitely a challenge for the festival committee but we pulled it off, we will review 2012 just before we start the planning process for March 30th, 31st and April 1st 2013!"