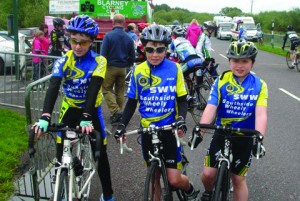 Our underage and senior racers were in action in Blarney over the holiday weekend. Our junior racers stole the show with Mark Mullins fourth and Aaron Passmore sixth in the U12 race, while Edmund O'Connor rode brilliantly to finish in the bunch. Well done boys, great perform-ance. Senior rider Brendan Houlihan was going well and unlucky to finish just outside the top ten. Stephen Finn was sitting in the main bunch when two riders collided in front of him, this caused a chain reaction which resulted in a big group of riders ending up on the ground. Stephen was unfortunate to be caught up in this and is nursing some nasty road rash. He's a tough nut though so we expect him to be back in action soon. 
On Saturday, club mem-bers Jonathan Moloney, Daithi Creedon, Robert Shanahan and John Crowley braved the torrential rain to complete the Duhallow 145km Cycle. Starting in Mallow and taking in some tough hills this was another well run and enjoyable tour. Well done lads.
Congratulations to Daithi Creedon who has finished second overall in the Cycling Pursuits Time Trial League. All the training is paying off Daithi. 
We had a great turnout again last Wednesday night with nearly thirty riders heading for the hills. Underage star Brian McCarthy joined us for the spin and had Big Dave under pressure as we approached Ardpatrick, we have the photos to prove it. Best wishes to Mary McCarthy, we're all delighted you're ok.
New members are always welcome to join our club, all you need is a bike and a helmet and you're off. We have club spins Wednesday evening at 6.30pm, an easy paced cycle (perfect for beginners or those returning to cycling) at 9.30am Saturday morning and our Sunday spin at 8.30am. All leave the car park beside Kilmallock Cycles. There's a group for everyone and every fitness level so don't think you'll be left behind. There's plenty of chat, advice if you need it and you'll get fit into the bargain. Keep an eye on our website www.southsidewheelywheelers.com or call into Paul in Kilmallock Cycles who'll be happy to tell you about club activities.