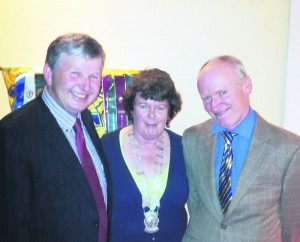 Congratulations to Tony O'Regan who won the area final of the International Speech Contest and Pat Sexton who won the Evaluation contest in Charleville on 9th April. There was a toastmasters meeting on 4th April.There was a great variety of speeches. We had a very informative talk from Michael Dineen on strokes and what to look out for and do if you find someone getting a stroke. The second speech was from Marie Fitzpatrick on the advantages of making your brown bread. She outlined that we are at a loss with the closure of all the small bakeries with their variety of quality breads.
Next we had a very interesting speech from Declan Curtis on his studding and work in England called 'The Inner Child'. He found that to work best with children you have to find your inner child and in doing so it also made him feel more at ease with himself. He came up with the idea that for most happiness we should walk hand in hand with our inner child.
The next speech was by Bill Martin called I Hate H.R. This was a very humorous speech about his work on oil tankers and the things that can go wrong and how HR people sometimes don't help The last speech was a very colourful speech by a guest speaker from Galtee Toastmasters Mary Meaney. It was the life story of her father Mick Meaney who got the world title for being buried alive, about his life from Ballyporeen to working in England and back again.
The next meeting is on 19th April at 8pm in the Hibernian Hotel www.speakeasytoastmasters.com