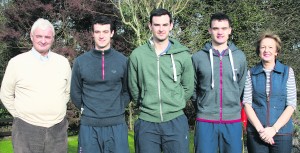 It is a long way from playing in an Under 10 Ground Hurling Tourna-ment in Glenbrohane to one of the world's finest sporting stadia Croke Park but that is the journey three young Kilmallock hurling brothers are on the threshold of completing.
When the O'Loughlin brothers step on to the hallowed turf of Semple Stadium for the All-Ireland Club Senior Hurling semi-final with their beloved Kilmallock on Saturday week, they will be carrying on a proud family tradition of playing sport at the highest level.
The towering brothers are vital cogs in namesake Ger O'Loughlin's armoury as he plots Kilmallock's route past Down and Ulster champions Portaferry and qualification for the All-Ireland Senior Hurling Club Final on St. Patrick's Day. Philip is the Kilmallock centre half back, his brother Mark mans the square at number 3 while the youngest of the threesome Paddy, who is still eligible for minor ranks, will be on the bench and almost certain to be introduced during the course of the game.
Sport runs very deep in the O'Loughlin genes. Paternal grandfather David B O'Loughlin won six senior caps for Ireland in rugby while maternal grandfather Paddy Collins was one of the founders of the great Dublin GAA stronghold, Kilmacud Crokes.
David Bonaventure O'Loughlin was born in Glenbough between Kilmallock and Effin in 1916 and after attending primary school locally went to further his education with the Holy Ghost Fathers in Blackrock College where he had a relative among the community. He quickly learned the skills of rugby at one of the world's great rugby nurseries and won two Leinster Schools Senior Cup medals with the college.
Third level education took O'Loughlin to U.C.C. where he studied Diary Science. He quickly made the transition to senior rugby with the Cork University where he won three Munster Senior Cup medals of a career total of five. He later won two with Dolphin and was on a losing Cup final teams on two other occasions. He also played for Garryowen and during his time with the Limerick club went on a tour to Lourdes, such tours were pioneering at the time.
It was during his time with U.C.C. that O'Loughlin came to the attention of the provincial and national selectors and made his Ireland debut against England at Lansdowne Road in the Home Nations on 12th February 1938. It was the first of six caps won by the towering lock, all in the then Home Nations Tournament, and he got on the score sheet on his second appearance for his country when he touched down against Scotland at Murrayfield.
The outbreak of war cruelly curtailed the Kilmallock man's appearance for his country as rugby activity was suspended for a number of years, though a number of unofficial internationals did take place for which caps were not awarded. Such was O'Loughlin's prowess at the code, he was always one of the first names listed for those unofficial games.
Dave O'Loughlin later went on to be an Ireland rugby selector and was a member of the committee that selected Tony O'Reilly for his first cap in 1955.
He later went on to coach the U.C.C. senior team and guided a stellar College team to Munster Senior Cup success in 1963. It was a team that contained such great names of Munster and Irish rugby as Tom Kiernan, Pat McGrath, Jerry Walsh, Ollie Waldron, Mick Leahy and the Kiely brothers.
Dave O'Loughlin played with the great Jack Kyle after the war and in 1970 as General Manager of Golden Vale Co-Op visited the Belfast genius in his home in Zambia during a business trip to Africa.
Paddy Collins was one of the founder members of the Kilmacud Crokes club in 1966. It was born out of an amalgamation of the then Crokes Club and Kilmacud Hurling and Football Club.
Paddy with his son Gerry were among the leading lights in the club for many years. The late Gerry is well known to television viewers these days as the face of the station's anti smoking advertisement.
Both men shared a great love of hurling and Gerry made his Croke Park debut as a raw nine year old with Kilmacud Crokes. He later went on to represent Dublin in 1976 and 1977 in the Leinster Under 21 Football Championship and made his senior debut as part of Heffo's army in 1980. At the end of his playing career Gerry Collins took to coaching and was a constant presence in that sphere of activity in the club almost until his untimely death.
The brothers father Peter, also a past pupil of Blackrock College played rugby for a number of years at junior level with Tipperary club, Clanwilliam. He also had a brief flirtation with Gaelic football and was selected for Limerick in the Munster Minor Football Championship.
Education for the hurling brothers was at Kilmallock Primary School where they came under the influence of John Ahern, Michael Barron and John English before progressing to the Kilmallock club where the list among their influences Mike Keane, Paddy, Kelly, Pat Barrett, John O'Donnell, Denis Crowley, Donie Barry, Peter Finn and Mike O'Connor.
Philip recalls his first competitive game as being in an Under 10 Ground Hurling Tournament in Glenbrohane. It was the start of something that could end in Croke in six weeks time. All three brothers have worn the green of Kilmallock and Limerick and all three have occupied the number 3 slot at different levels, including senior in the case of Philip, for club and county. Paddy played for Limerick at full back in last year's All-Ireland Minor Hurling Final and is eligible for the grade again this year.
It has been a long and eventful journey that has seen all three as vital cogs in a string of successes, especially with Kilmallock.
Philip to date has one Munster, three county senior, four under 21 and three minor medals to go with a plethora of underage medals with Kilmallock. Throw in a Rice Cup medal with Charleville C.B.S. as a goalkeeper and a Fitzgibbon Cup medal with U.C.C. and it makes the oldest O'Loughlin brother, who is a trainee accountant with KP&G, one of the most decorated young men in the game in Limerick.
Mark can boast one Munster, three county senior, two under 21, and two minor hurling and football medals, as well as a Kinnane Cup medal with Charleville C.B.S. Mark is at third year accountancy student in U.C.C.
The junior brother of the three, Paddy has a bit of catching up to do in the medals race but at 17, a Munster and County senior medal is not a bad haul.
Peter and Rosemarie O'Loughlin and their three sons cannot wait for Kilmallock big showdown on Saturday week. "We are absolutely delighted to be there. We do not know much about Portaferry but as we are very much focused on ourselves and getting our own house in order and making sure that we are in the right frame of mind going into the game" Philip said.
He agreed that 2014 was a very special year for the O'Loughlin's. "Up until the county final, you had Mark and I on the team, Paddy was coming back from playing with Limerick minors, The Sarsfields game was the first competitive match where the three of us featured on the pitch at the same time. That was very special and with Paddy getting a point to push us one ahead near the end, it was brilliant. He also made an impact in the final getting another point, but to win a Munster and a county with your two brothers is unbelievable."
Philip O'Loughlin agreed that after losing at home to Thurles Sarsfields in the Munster championship in 2010 and 2012 getting over Sarsfields in the 2014 semi-final was a huge monkey off the back. "Look at the scenes at the end of the Sarsfields game and to have had come out on top was unbelievable. There was just a sheer sense of relief from the team, the supporters, everybody and it went a long way to making up for losing to Thurles Sarsfields in 2010 and 2012".
The Kilmallock centre half back believes everything is now going right as the build up to Saturday week continues. "After winning the Munster Championship, we enjoyed that for a week but Ger O Loughlin was very quick to get us back in training. We were back a week later and very much working towards 7th February and doing some tough sessions. We took a small break over Christmas to refresh the minds and body and we came back at vthe start of January and things have been going very well since. We have had some very good challenge matches as well and everything is going in the right direction."
Philip acknowledges the role of Kilmallock manager Ger O'Loughlin in getting this far. "When it has come to the real crunch games of the championship, he has made a telling contribution. He give us some very good insight leading into those games, like things to focus on. As you see it has made the difference and we have made a breakthrough this year."
Does Croke Park on St. Patrick's Day beckon for the three O'Loughlin boys? "We cannot look any further than Portaferry and that is where our focus is at the moment. It would be absolutely unbelievable to get there but we have sixty odd minutes of tough work ahead of us first, and we are not looking any further than that."
The baton on playing sport has been handed down through a couple of generations to the hurling loving O'Loughlin boys. Grandfather Dave O'Loughlin wore the green of Ireland in Landsdowne Road and now his three grandsons are on the threshold of wearing green, this time of Kilmallock just down the road in Croke Park.
The G.A.A. headquarter was second home to Paddy and Gerry Collins, two men that were an integral part of the Dublin G.A.A. scene for many years.
Sporting prowess, history and tradition very often repeat and the O'Loughlins are a classical example of it.