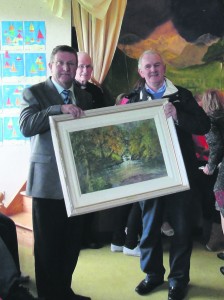 The pupils, parents, staff and Board of Management of St. Fergus N.S., Glin bid an emotional farewell to long serving Principal, John Anthony Culhane on Sunday last.
A huge crowd gathered in the school hall to wish John Anthony a happy and healthy retirement after 40 years in the teaching profession. The event coincided with the blessing of the school's new playground of which John Anthony was the main driving force.
Pupils from the first class he ever taught in St. Fergus' in 1971 came along to wish him well. Deirdre Kennelly, Principal, welcomed everyone to the school and thanked the outgoing Principal for the wonderful legacy he was leaving. Tommy Wallace, Chairperson of the Board of Management presented John Anthony with a painting of 'Poll an Eas' – this was always a very significant place for him as he took the children of 5th & 6th on educational trips to this idyllic spot. The Parents' Association also made a presentation as a thank you for his dedication to the pupils of St. Fergus' and his kindness and support through the years. The youngest pupil Colm McNamara and the eldest pupil Liam Conway presented Mr. Culhane with a candle, representing the light of education he shared with the children he came into contact with. Paddy Trant read a reflection on teaching dedicated to Mr. Culhane.
Fr. Thomas Crawford, P.P., V.F blessed the new playground and wished the children many hours of fun. He thanked John Anthony for spearheading this project as it was his final contribution to the school after 40 years of service. Mr. Culhane and everybody connected with the school would like to sincerely than all the local businesses, groups and individuals for their generous sponsorship which made it possible to bring the playground project to fruition.
It was an emotional time for a lot of people present as the happy & often funny memories came flooding back. John Anthony said it all about his teaching career during his address when he quoted a famous golfer: "I get to play golf for a living. What more can you ask for – getting paid for doing what you love".