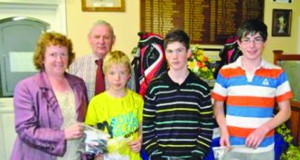 St. Josephs CBS Doneraile ran their annual Golf Classic in Doneraile Golf Club on Saturday 23rd and Sunday 24th of June. 46 teams played altogether over the weekend. The weather was not in our favour on Saturday and our competitors encountered very wet conditions but all participated in good sporting spirits. Sunday turned out to be a very pleasant day and the sun shone brightly for us. An enjoyable weekend was had by all and once again Mary Roche and her staff provided appetising food for all those who participated in the Golf Classic.
Incorporated in our Golf Classic, we ran an art competition for students attending the school. We had three categories 1st and 2nd class, 3rd and 4th class, 5th and 6th class with a first and second prize for each category. The theme for the art competition was 'The Olympics' and entries were judged by Mary Flahive. The winners were as follows:
First and second class competition: 1st place Colin O'Shea and in 2nd place Seán Kiely
Third and fourth class competition: 1st place Ruairí Keane and in 2nd place Caine Kiely.
Fifth and sixth class competition: – 1st place Cadan McCarthy and in 2nd place Ronan Jones.
Well done to all who participated.
The second event we ran was a Junior Golf scramble for junior members and students of the club. 27 children participated in this competition. The winners were as follows:-
1st Killian Cotter, Barry Hallahan and Sean Discombe,
2nd Seán Enright, Myles Collins, Eilish Murphy and Eimear Hunter,
3rd John Cronin, Ross McCarthy, William Flynn and Fionn Woods.
Mary Roche satisfied their pangs of hunger after the scramble in the club house with goujons and chips.
The night culminated with prize giving on Sunday evening in the clubhouse. Master of ceremonies was our chairperson Tony Cronin. The 2012 winners were Sean Collins, Donnacha O'Callaghan and Eddie Roche with 69 points.
A sincere thank you to all our main sponsors this year all of whom came from Doneraile. They were Londis Foodstore, Spring Nurseries, S. Jebb and Sons and Mary Roche who sponsored nearest to the pin. Sponsorship was also received through buying teams, tee boxes and raffle prizes, again from local businesses but also neighbouring towns and villages, as well as from parents and guardians of present and past pupils.
Finally, The Parents Committee would like to express their thanks to the following: Doneraile Golf Club and its management for letting them avail of their wonderful facilities once again this year and for their help and support in running the Golf Classic; Frankie Carey for helping with the cards; Jennifer Hickey and her junior golf team for their advise and help with the juveniles; Mary Roche and her staff for providing beautiful food and refreshments throughout the weekend; the Board of Management, staff and school secretary Geraldine for their support in running the art competition, the parents and guardians of children attending the school for their support; Assumpta O'Connor for providing, as always a beautiful display of flowers to show off our table of prizes and Mary Flahive for acting as judge and jury of our art competition.
The Golf Classic is our main fundraiser for the school each year. It is of huge benefit to our children, providing them not only with access to athletics, music and dance tuition, but also it subsidises transport for school tours and swimming which results in reduced costs to parents.
Finally to everybody who contributed in any way to making it a success. Thank you.
School year draws to a close
As the 2011-12 school year draws to an end, the management, staff, parents and pupils of the school look back with pride on the achievements of their school over the year. We have always had a very strong sporting culture and this year enjoyed success in hurling, athletics, swimming and quiz competitions. St. Joseph's is one of the few primary schools to boast a covered astro-turf sports area where children enjoy athletics, GAA and dancing classes all year round, irrespective of weather conditions.