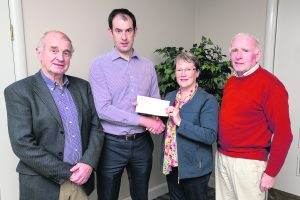 Friday, June 30th sees the 30th Annual Greyhound Benefit Meeting in aid of St. Joseph's Foundation.
This is a fantastic achievement and St. Joseph's Foundation is very proud to have reached this milestone. Thanks to the combined efforts of the many people involved in the organising of this event and the many companies and individuals who have supported it throughout the 30 year period, in excess of €970,000 has been raised. The organising committee together with St. Joseph's Foundation extends a sincere thanks to all who made this amazing success story possible. We look forward to your continued support and generosity.
The history of this event started in 1981 when there was a Rag Meeting held in Ballyagran on the last Sunday before Christmas. This was run as a fundraiser for five years until it was replaced by the Greyhound Benefit Night.
Similar to the current Greyhound Benefit Meeting, Money was raised by selling nominations, raffle tickets and seeking donations. The Rag Meeting was run for a number of years and in 1988 the Greyhound Benefit Meeting Committee was formed and based in Charleville and included some of the Ballyagran Rag committee.
Initially the Benefit Nights took place in Limerick track. It moved to Cork in 1994 for 2 years, then returned to Limerick again. In 1998 and 1999 it went back to Cork and remained there until the opening of the new track in Limerick in 2011.
The Benefit Night has continued for 30 years because there was always a purpose to the fundraising
Funds were used:
For the purchase of a bus.
To help build the Comhar Centre in Love Lane, Charleville.
For many years funds were allocated towards the provision of respite care for children and the necessity for this care kept the organising committee focussed and committed.
Raffle tickets for this year's event will be on sale at Charleville Agricultural Show on Saturday and Sunday, June 24th and 25th.