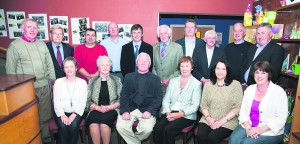 Friday week July 6th will be a landmark occasion at Limerick Greyhound Stadium when one of the most enduring local fundraising events takes place. On that evening St. Joseph's Foundation, Charleville will host its Silver Jubilee 25th Grey-hound Benefit meeting. Details of this year's event were revealed at a launch in Charleville last week.
Fundraising for St. Joseph's Foundation began all of 31 years ago in 1981 when there was a Rag Meeting in Ballyagran on the last Sunday before Christmas. The Rag Meeting was the brainchild of Mick The Nipper Walsh and was held on lands owned by Mrs. Mary Walsh. This was run as a fundraiser for five years until it was replaced by the Greyhound Benefit Night
Similar to the current Greyhound Benefit Mee-ting, money was raised by selling nominations, entry fees, raffle tickets and donations.
The Rag Meeting was run for a number of years and in 1988 the Greyhound Benefit Meeting Commit-tee was formed and based in Charleville and included some of the Ballyagran Rag committee.
It was chaired by the late Bill Collins who was also a member of the Board of St Joseph's Foundation. Through his involvement in coursing and the track he enlisted and got support from the local coursing clubs, Charleville, Dromina and Milford. Bill remained as Chairman until his untimely and sudden death in February 1995. J.J. Sexton took over as Chairman, followed by Lucy Murphy some years later. The current Chairman is Paul O'Shea.
Initially the Benefit Nights took place at Limerick track, moved to Cork in 1994 for two years, then went back to Limerick. In 1998 and 1999 it went back to Cork and with the new track opening in 2000 it stayed for that year too. Because of the facilities available in Cork it remained there until the opening of the new track in Limerick in 2011.
The Benefit Night has continued for 25 years because there was always a purpose to the fundraising with funds used to buy a bus, to help build the Comhar Centre in Love Lane, and for many years now they have gone to provide respite care for children and the necessity for this care has kept the organising committee focussed and committed.
Thanks to the combined efforts of the many people involved in the organising of this event and the many companies and individuals who have supported it throughout the 25 year period, over €750,000 has been raised.
Speaking at last week's launch Eamonn McCarthy, Chairman of St. Joseph's Foundation, paid tribute to the organising com-mittee, many of whom formed the original committee in 1988/89. "Your dedication and enthusiasm has been inspirational and I want to assure you that your involvement in raising almost €800,000 over the past 25 years has made a very positive impact. It has enabled the Foundation to continue the provision of respite care for children within our services. This is an invaluable service for children and their families and the Foundation is very mindful of the part you have played in its provision," he said.
Mr. McCarthy went on to say that thankfully fund-raising was up in 2011 based on 2010 figures. "People recognise the good work and have a grá for the services we provide on a daily basis. Without the combined goodwill of the organisers and supporters of the many fundraising events held throughout the year, the Foundation would not be able to provide as comprehensive a service as it does. As recent cutbacks have meant a reduction of €420,000 in the funding we receive, it is of vital importance that support for our fundraising continues to help bridge this gap. I would like to thank all those who organise and support activities that raise money for the Foundation and there are many. To our sponsors, again many of whom are committed to the Greyhound Benefit Meeting for many years, I want to say a huge thank you for your great gener-osity, it is much appre-ciated."
The Chairman went on to outline developments at the Foundation during the last twelve months such as the proposed Day and Residential Autism Service at Liskennett, Granagh, to provide day and residential service for adults and children with Autism and Asperger's Syndrome. The key objectives of this proposal are to provide 16 residential/respite places for people with challenging behaviour and also facilities for 45 additional day places. This project is ready to go to tender and awaiting approval on funding from the Government.
He also spoke of the purchase of Ross House, Mallow, which was officially opened by Minister Kathleen Lynch in February of this year with a view to providing a full range of multi-disciplinary services to service users and their families in the Mallow catchment area.
The centre includes three therapy rooms that are used by speech and lan-guage therapists, occu-pational therapists, social workers, physiotherapists, community nurses, a music therapist and psycho-logists.
Concluding Mr. McCarthy stated "I would like to especially thank all who work tirelessly selling tickets, sourcing sponsor-ship, advertisements, nominations to make the night such a success. It is because of this dedication that the Greyhound Benefit Meeting has reached its Silver Jubilee. I would like also to thanks Chairman Paul O'Shea and Fundraising Administrator Maura Twomey for their work in connection with this event."