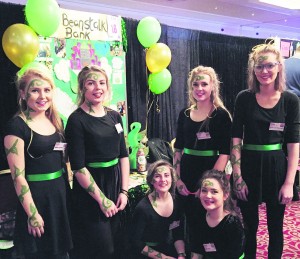 On Wednesday last, 25th February, the St Mary's Secondary School's Beanstalk Bank team travelled to the Silversprings Hotel, Cork to take part in the AIB Build a Bank Challenge Regional Finals. On the day, over 33 teams from all across the Munster region took part in the competition. Throughout the day the girls went through a series of three interviews in which they discussed the daily running of their bank, marketing techniques, community involvement and the digital aspect of their bank. It was the first year St. Mary's Secondary School entered this AIB Build a Bank competition, so many people would say the girls were at a disadvantage to many of the other schools which were more experienced, having entered the Build a Bank challenge in previous years.
However, the St Mary's students once again defeated the odds and were rewarded for their hard work by being shortlisted for the top 8 semi-finalists out of the 33 schools present on the day! The girls were then required to give a two-minute presentation on stage to convince the judges that their 'Beanstalk Bank' was the best newcomer bank in the whole of the Munster region. The girls, even though a little nervous, were well prepared for this presentation and blew the judges away with their professionalism and excellent communication skills. Therefore, it was no huge surprise to the audience when the girls were awarded the prestigious 'Best Newcomer' AIB award. The girls were ecstatic with their win, scooping a prize to the value of €850 and rubbing shoulders with Kerry footballer Colm Cooper and  Cork footballer Colm O Neill.
The girls would sincerely like to thank everybody within the school community at St Mary's who helped them achieve this goal. They particularly wish to extend gratitude to Ms. Sinead Collins and Ms. Kim Greensmith of AIB Mallow along with their teacher Ms. Donna Lyons for guiding them throughout the year with this project. The St Mary's Beanstalk Bank team will continue to open and run their school bank until the end of the year. Keep up to date with the Beanstalk Bank on twitter @The Beanstalk_ Bank, and finally "Don't forget to #saveyourbeans".