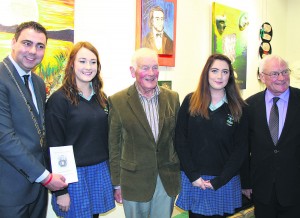 On Thursday last, 11th September Mallow Library hosted the launch of the St. Mary's Thomas Davis Exhibition. This year marks the bicentenary of the birth of Thomas Davis. Davis, born in Mallow, was a cultural nationalist whose writings sparked a renewed interest in nationalism in the 1830s. During his lifetime he was elected Auditor of the Historical Society at Trinity College, co-founded 'The Nation' newspaper and was chief organiser of the Young Ireland movement. 
The exhibition was organised by two teachers, Mr. Christian O'Connor and Ms. Evelyn Mullen,from St. Mary's Secondary School. On display were pieces of art inspired by the writings of Davis and created by Ms. Mullen's transition year students. The launch involved a mix of public speaking, poetry recital and music. Three of Mr. O'Connor's senior history students, Julie Brennan, Emma Murphy and Adebola Ayodele recited famous poems written by Davis including the well-known 'A Nation Once Again'. They were accompanied by talented violinist Eleanor Rutherford. The story of Thomas Davis was eloquently delivered by sixth year student Kate Nyhan. Arguably, the highlight of the evening was when music students Kate Buckley, Rachel Moore and Leah Robbins beautifully performed 'The West's Asleep' as a song.
Speeches on the night included Mr. O'Connor's 'Why Should We Commemorate Thomas Davis?' Cork County Councillor, John Paul O'Shea and Thomas Davis Commemoration Society member, Frank Killilea praised the staff and students of St. Mary's for organising a 'wonderfully enjoyable' event. The exhibition was officially launched by St. Mary's Deputy-Principal, Ms. Úna Griffin.
Two students from St. Mary's will travel with Ms. Mullen to Dublin on Friday, 10th October as part of a Mallow representation for the launch of the Thomas Davis Bicentenary Stamp. The Aemilian Theatre at St. Mary's will host 'Davis 200: The Voice of Davis', a stage play based on the life of Davis on Tuesday, 14th October.
The St. Mary's Thomas Davis Exhibition can be viewed online via Mr. O'Connor's school history website www.historymatters365.com .