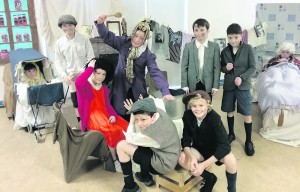 The boys of St. Mary's Boys' School, Abbeyfeale together with their teachers devised a drama based on the events of the 1916 Rising and entered a nationwide competition for primary schools run by The Abbey Theatre in conjunction with RTE Swipe TV and the Department of Education and Science. They developed characters and moulded the story around the happenings in Dublin at the time. They had previously learned about the historical events of the Rising as well as examining the social and economic situation in Ireland at the time. This information helped them to mould the various characters and build their drama.
Subsequently they designed an elaborate set involving the reconstruction of part of Sackville St. as it was then known as well as the inside of a tenement building. Many hours of painting, sticking etc went into the construction and design of the set. The boys searched high and low for suitable props to complement the set and suitable costumes were put together to make the characters as realistic as possible.
A one minute clip of the drama was submitted and St. Mary's was chosen as one of the 6 finalists. The winner was chosen last week by virtue of an internet poll. Voting took place from February 24th until March 2nd and we used every available means to round up as many votes as possible. St. Mary's was declared the winner on Thursday last and will perform their play on the stage of the Abbey Theatre after Easter.
The boys have worked extremely hard in putting together their costumes and designing the set as well as using their creative prowess to put all they have learned about the Rising into action. They have thoroughly enjoyed the experience, have had lots of fun along the way and are now looking forward immensely to their trip to Dublin!