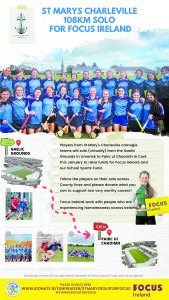 St Mary's is delighted to announce a fundraising event for Focus Ireland. Students have already been involved with this valuable charity, taking part in Christmas Jumper Day on 17th December 2021, and as we progress on to 2022 our students have been busy soloing from the Gaelic Grounds in Limerick to Páirc Uí Chaoimh in Cork via their local community.
The fundraiser involves our girls doing a solo run of 108km. Each player will solo through their community for this worthy cause.
We value greatly our sporting tradition and we wish to further develop our grounds towards
Ball Alley
Walking Track
Equipment
There is of course a long history of camogie in St Marys. 1983 was the year it all started with camogie for St. Mary's. It has been a whirlwind of matches and finals since. Success for St. Mary's is attributed to a number of factors. St. Mary's are blessed in that they have their own recently developed pitch adjacent to the school. This enables the player's from all years to play and train during lunch hour and after school. This promotes camaraderie and teamwork in the younger players and the bonding achieved translates into superb team spirit at junior and senior level. The Seniors and Juniors both individually train twice weekly after school and also on Friday mornings when the year progresses. The parents of the players are a superb help, not alone encouraging their children to play camogie, but they also provide and prepare pitches and supplement funding through supporting our sports fundraisers. Successful local clubs feed into St. Mary's which then benefits both as a result. The local club's management and officers are so co-operative and encouraging for which St Mary's is truly grateful.
St Mary's Charleville has won 31 All-Ireland A titles in camogie. These comprise:
7 All-Ireland Senior A titles
9 All-Ireland Junior A titles
15 All-Ireland 7s A titles
amongst the 110 titles the school has won.
We are truly grateful to the local clubs who support us so strongly on the school field. St Mary's community is truly blessed with local support from Charleville Newtown Dromina Ballagran Granagh Ballingarry Ballyhea and beyond. We would like to congratulate all the recent division finalists and winners Charleville U14 County Final Winners, Newtownshandrum U15 Féile Winners, Ballyagran, U16 County Final Winners Granagh Ballingarry U16 U18 County Final Winners. Best of luck to Ballyhea U15 playing this Wednesday night and to Newtownshandrum U15 playing the Avondhu Final this weekend. Thank you to so many of our past players who continue to come into our school to give of their time to training our teams as well as members of our community who come in to support us training and with equipment.
This year has been hugely successful for our teams as we became Munster 7s Champions, representing Munster at the All Irelands.
Pitch Redevelopment 2021
Facilities for our students are always top priority in St Marys. 2020 saw the beginning of a major redevelopment of our pitch facilities, with the help of a Sports Capital Programme Grant in association with Charleville Camogie.
Extension resurfacing and sanding works were carried out. Extra drainage was put in to ensure all year round playing of matches. The grounds are now maintained and prepped for match fixtures by GreenGrass Landscaping Ballyhea. We are thrilled our students now enjoy such high quality training facilities. We thank the Board of Management for their ongoing support as we continue to expand our facilities with the addition of further of facilities to our grounds.
St Marys has produced some incredible athletes in our sporting fields and we hope to continue supporting such talented athletes in their chosen fields throughout the provision of quality facilities such as our pitch.
Any donation that you can give, big or small, would be highly appreciated. Funds will be split evenly between Focus Ireland and St. Mary's Camogie.
Thank you.
#STMARYSSOLO #OurCommunityLearningTogether