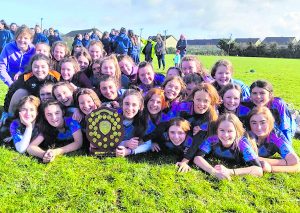 Passion. Pride. Guts. Determination. Nail-biting. Tension. Victory. This Munster final was how all Munster finals should be. A huge well done to the St. Mary's juniors who defeated Carrick-on-Suir last week to end up the year Munster B League champions. It was a cracker of a game in Mannix College which was in excellent condition and there was great support present on the day. The juniors had prepared very well for this crucial game, training over 50 times since September, and they played ten games in total in the lead-up to the final. There was a panel of 35 players who all played their part at various stages throughout the year. The school is so proud of the juniors' acheivement and it is great to see the sky blue jerseys lifting silverware once more. That now makes it 107 camogie titles for the school since the first year of camogie in the school in the early 1980s. Not bad going!
Carrick-on-Suir came into the final knowing they had already beaten our juniors earlier in the year by four points. However, this was a different St. Mary's junior team. There were a lot of personnel and positional switches, while thankfully keeper Shone O'Neill had recovered from injury and made a huge impact in the final. With 5 minutes to go, St. Mary's were leading by tour points when Carrick-on-Suir broke through. They went for a point but the sliotar was dropping under the crossbar. Shone was equal to it and tipped the ball over the bar. A three point lead is always better that a one point lead and nerves settled. This save was a big turning point. Well done, Shone!
The game started in frenetic fashion. Rachel O'Brien and Aine O'Sullivan were up against a fine midfield partnership and were doing excellently and breaking even. Carrick-on-Suir had three speedsters in their forward line. These three were now being picked up by Eimear Hogan, Ellen Murphy and Lauren Dillon-O'Toole who all went on to have absolutely magnificent games. Our opening score came from player of the match Laura Frawley. Laura is a tremendous athlete and is equally a terrific camogie player. She started off on fire in her roving role at wing forward and her first point was straight from a great puck-out from keeper Shone. Carrick-on-Suir then showed they meant business with an outstanding goal from a tight angle from their full forward. St. Mary's were shaken by this but the juniors had a few things in their locker – heart, fight and a fierce will to win. Corner forward Grace McCarthy replied with a fine point from play after good work out the field by centre forward India Hanley who once again worked her socks off. The Charleville inside forwards Grace McCarthy and Evelyn O'Reilly were outnumbered three to two, but their work rate was fantastic. Grace and Evelyn together forced a turnover and we won a 45 which centre back Sinead Jones came up for and dispatched with aplomb. Sinead probably had her best game of the year at centre back and has really improved all year. Carrick-on-Suir replied with a great point from play to lead by one point. Wing backs Eimear Hogan and Ellen Murphy were flying yet again and broke down so many of the Carrick-on-Suir attacks. Behind them Sophie McDonagh was playing a sweeper role and no better player. Sophie tidied up an amount of ball and was excellent to read the play and support her other defenders. Eve Moloney was also tigerish in the tackle and was defending superbly at corner back. Wing forwards Roisin Jackman and captain Jane Foley then burst into the game and became frequent targets for Shone's puckouts. Both Jane and Roisin are real leaders in this team. Their ability to win dirty ball and go on mazy runs is a fantastic thing for the junior team. Roisin won a few puckouts in a row, delivered cross-field balls both times to the flying Laura Frawley, and Laura once again rose two more white flags. Unfortunately, shortly before half time Carrick-on-Suir surprised us with a lucky goal and at the interval the Waterford side were leading by two points.
The second half was again intense with no team backing down. Jane Foley was leading by example yet again. The younger players really look up to Jane and she didn't disappoint. She was inspirational and won some amount of ball and was non-stop encouraging her team. What a captain! India Hanley was again a great presence in the half-forward line and was causing trouble, while beside her Roisin Jackman continued her super form. The comeback was on, you could sense it. Laura Frawley was a huge thorn in the Waterford side and started the comeback with a great point from play, and then equalised with her first point from a free. The game was level and Carrick-on-Suir started to panic. Aine O'Sullivan was dominating the middle of the pitch. Our forwards were getting more ball. Any time our defence was breached, there was no way the Carrick-on-Suir forwards were going through our tough full back Lauren Dillon-O'Toole. She was simply brilliant in the second half and again got great support from Eve Moloney beside her, while Sophie McDonagh was ever-efficient with her clearances in her sweeper role.
Pressure started to tell. Laura Frawley scored four more points from play over the next 20 minutes and ended up the day with nine points, eight from play in a majestic performance. Ellie Gammell and Abbie O'Shea both came off the bench and both played so well when they came in. Ellie in particular won lots of ball and was great to show for the other forwards, while Abbie was very unlucky at one stage not to score a goal. The Waterford keeper made some good saves that kept them in the game, but it was St. Mary's day. Caoimhe Morrissey was about to enter the fray but the referee blew the final whistle. Caoimhe is such a committed player and in the semi-final made a great impact in our win. The final score was 0-11 to 2-2 in St. Mary's favour. There were great celebrations after the game. Captain Jane Foley gave a fine speech, something she will hopefully be getting used to in the coming years! Massive congratulations to the St. Mary's juniors. It has been a fantastic journey this year. Well done, enjoy this win, you deserved it!
Junior panel: Jane Foley (captain) (Ballyhea), India Hanley (Ballyhea), Sinead Jones (Charleville), Laura Frawley (Granagh Ballingarry), Lauren Dillon-O'Toole (Ballyhea), Rachel O Brien (Charleville), Aine O'Sullivan (Ballyhea), Grace McCarthy (Charleville), Eimear Bresnan (Charleville), Ciara Boyce (Ballyagran), Amy Geary (Milford), Emma Morrissey (Charleville), Eve Moloney (Blackrock/Effin), Ellen Murphy (Charleville), Roisin Jackman (Charleville), Ellie Gammell (Charleville), Aoibhinn Barrington (Granagh Ballingarry), Caoimhe Morrissey (Ballyhea), Shone O'Neill (Charleville), Sophie McDonagh (Granagh/Ballingarry), Eimear Hogan (Granagh/Ballingarry), Evelyn O'Reilly (Charleville), Amelia Gleeson (Charleville), Gemma Barry (Charleville), Kayleigh McNamara (Charleville), Katelyn Daly (Ballyhea), Kahlen Flanagan (Blackrock/Effin), Meadhbh Riordan (Ballyagran), Leah Ryan (Charleville), Caoimhe O'Leary (Charleville), Clara O'Halloran (Newtownshandrum), Danielle Finucane (Newtownshandrum), Blaithin O'Connor (Newtownshandrum), Caoimhe Cunningham (Ballyagran).