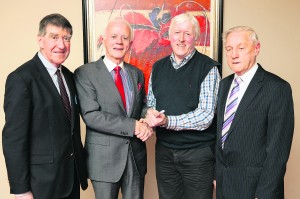 Well-known 71 year old, Stephen Roche from Rockchapel won the North Cork heat of the Over 60s Talent Competition in the Charleville Park Hotel last week. It was the first time the competition was held in Charleville and the 39th year of the competition. Present at the event was Fr Tom Naughton and Cllr Ian Doyle.
Stephen sang a very old number, 'In My Father's Home' and has many years experience of performing on stage with singing and acting. He was a member of the popular group in Wales, 'Drops of Brandy.' Stephen is married to Joan and they have 3 children and 6 grandchildren. Speaking to Paddy O'Brien after his victory, Stephen said he has for many years had a great interest in the Over 60s Talent Competition. "It is a wonderful way of affording people in their 60s, 70s and 80s to perform on stage," he said.
Stephen is now looking forward to performing in the semi-final at Cork City Hall on Sunday April 26th. "I hope the people of North Cork will purchase tickets for the semi-final and support me on the night in Cork."
Competition organiser, Paddy O'Brien, said tickets for the semi-final will be on sale at Pro-Musica, costing €15. To date the Irish Heart Foundation has received €462,000 from the Over 60's Talent Competition. For more details regarding the competition, contact Paddy O'Brien 086 8105585.