All-Ireland Senior Hurling Championship Quarter Final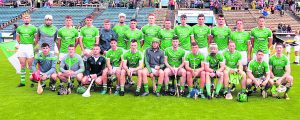 LIMERICK…………………………………………………………….………………………………….0-27
KILKENNY…………………………………………………………………………….…………………1-22
Limerick senior hurlers exorcised four and a half decades of hurt when they overcame Kilkenny in a gripping All-Ireland Senior Hurling Championship quarter final in Semple Stadium, Thurles on Sunday.
The ancient rivals served up the latest in a series of classics that has charact-erised the first year of the new championship format with the outcome on the balance until the final whistle in front of an appreciative attendance of 18,596. It was Limerick's first championship victory over the Cats since the All-Ireland final of 1973.
Limerick showed enor-mous character in recovering from what looked like a killer blow goal from Richie Hogan in the 65th minute to book a place in the All-Ireland semi-final against Cork in Croke Park on 29th July. It was a typical Kilkenny strike that so often turned games in favour of Brian Cody and his men in the past but not on this occasion as Limerick made a final raid on their reservoir of resolve to fashion out a historic and landmark victory.
The match statistics make encouraging reading for Limerick who hit 0-27, all but three of which were from open play with eleven players contributing to the tally.
Limerick matched Kil-kenny in nearly all facets of the game, especially in the air where Cody's men are traditionally so strong. Limerick won many of the aerial battles with Man of the Match, Dan Morrissey and Diarmaid Byrnes were much to the fore in that regard.
Limerick brought huge levels of intensity and work rate to the game and sustained it throughout and matching this with composure and resilience, John Kiely's men were able to withstand the shock of Richie Hogan's late goal.
The battle of the sideline was also won by Limerick with the timely intro-duction of the Na Piarsaigh trio, Peter Casey, Shane Dowling and William O'Donoghue, all three of whom played crucial parts in closing out the game.
Kilkenny will be dis-appointed with their scor-ing rate having misfired on 17 occasions. Richie Leahy, who was named to start but was one of three late changes made by the Kilkenny management, joined the fray and served notice that it may have been a mistake to assign him bench warming duties as he raised four white flags from play on joining the fray.
Kilkenny's hero on the day was goalkeeper Eoin Murphy who made four top drawer saves, twice denying Aaron Gillane and one Gearóid Hegarty effort as well as making a hugely important interception as Séamus Flanagan sought to pick out Gillane.
Riche Hogan opened the scoring for Kilkenny after four minutes and Séamus Flanagan immediately replied for Limerick.
Three in row for Kilkenny from James Maher and two T.J. Reid frees helped Brian Cody's side gain an early initiative.
Aaron Gillane, after being put through by Flanagan, lost his stick and his kicked effort was deflected over by Kilkenny net minder, Eoin Murphy.
Points by Richie Hogan book ending one from Kyle Hayes kept Kilkenny on the front foot. Colin Fennelly and Graeme Mulcahy swapped points as did Diarmaid Byrnes, from distance, and James Maher as Kilkenny main-tained a 0-8 to 0-5 advan-tage after 20 minutes.
Limerick were soon level after Aaron Gillane, Declan Hannon and Gillane again slotted over. T.J. Reid nosed Kilkenny back in front and from the puck out Kyle Hayes restored parity.
Gearóid Hegarty for Limerick and James Maher's third for Kilkenny saw the sides' level at 0-10 apiece.
Limerick were growing in confidence and Eoin Murphy could only deflect over a powerful Hegarty drive to which Graeme Mulcahy, Tom Morrissey and Darragh O'Donovan added points as Limerick opened up a four points gap, 0-14 to 0-10 as half time approached.
Conor Fogarty pared one off the deficit for Kilkenny before a late exchange of points between O'Donovan and Fennelly left Limerick in the ascendency at the short whistle 0-15 to 0-12.
The scoring rate deceler-ated in the 10 minutes after the resumption a period which yielded a mere three points, T.J. Reid's early free trumped by a Limerick brace from Gearóid Hegarty and Kyle Hayes.
On 47 minutes, Limerick got a clear cut chance to put daylight between the sides after Aaron Gillane got in behind the Kilkenny defence and his goal bound effort was brilliantly saved and deflected over by Eoin Murphy, the second time that the Glenmore netminder denied the Patrickswell ace an almost certain three pointer as Limerick established a five point lead.
Brian Cody's men respond-ed and landed five of the next six points through Liam Blanchfield and a double apiece from T.J. Reid and T Richie Leahy with Tom Morr-issey's 51st minute point the sole Shannonsiders response in the period. Limerick's lead was now down to the minimum 0-19 to 0-18 as the game entered the final quarter.
Graeme Mulcahy and Reid added to their sides' respective tallied before Peter Casey, who had just joined the action, and Darragh O'Donovan from a trademark sideline put Limerick three ahead.
The Cats were not finished and points from Leahy and John Donnelly cut the margin again ahead of Donnelly picking out Richie Hogan to crash home the game's only goal and put Kilkenny in front for the first time since the 29th minute, 1-21 to 0-22 with five minutes remaining.
The Limerick response was now critical and it proved to be definite in the shape of three white flags in as many minutes from Tom Morrissey, Peter Casey and Shane Dowling to recapture the lead 0-25 to 1-21 with the clock rapidly ticking down.
Richie Leahy landed his fourth point to level matters and extra time began to loom. Limerick were in no mood for 20 more minutes of high intensity effort and Tom Morrissey landed one of the finest individual points of the championship campaign to crucially put Limerick in front in the first of the three added minutes.
Kilkenny were now chasing salvation but Limerick held firm and sealed the deal with a late Aaron Gillane free.
Scorers: Limerick: Aaron Gillane 0-5, 2fs; Tom Morrissey 0-4; Kyle Hayes, Graeme Mulcahy, Gearóid Hegarty, Darragh O'Donovan, 1s, 0-3 each; Peter Casey 0-2; Séamus Flanagan, Diarmaid Byrnes, Declan Hannon, Shane Dowling 0-1 each.
Kilkenny: T.J. Reid 0-7, 5fs, 1-65; Richie Hogan 1-3; Richie Leahy 0-4; James Maher 0-3; Colin Fennelly 0-2; Conor Fogarty, Liam Blanchfield, John Donnelly 0-1 each.
Limerick: Nickie Quaid (Effin); Seán Finn (Bruff) Michael Casey (Na Piarsaigh), Richie English (Doon); Diarmaid Byrnes (Patrickswell), Declan Hannon (Adare) Captain, Dan Morrissey (Ahane); Darragh O'Donovan (Doon), Cian Lynch (Pat-rickswell); Gearóid Hegarty (St. Patrick's), Kyle Hayes (Kildimo-Pallaskenry), Tom Morrissey (Ahane); Aaron Gillane (Patrickswell), Séamus Flanagan (Feoh-anagh), Graeme Mulcahy (Kilmallock).
Subs: Peter Casey (Na Piarsaigh) for Flanagan (59), Shane Dowling (Na Piarsaigh) for Hegarty (59), William O'Donoghue (Na Piarsaigh) for O'Donovan (63).
Kilkenny: Eoin Murphy (Glenmore); Paul Murphy (Danesfort), Pádraig Walsh (Tullaroan), Paddy Deegan (O'Loughlin Gaels); Joey Holden (Ballyhale Sham-rocks), Cillian Buckley (Dicksboro) Captain, Robert Lennon (Bennetts-bridge); Conor Fogarty (Erin's Own), James Maher (St. Lachtain's); Martin Keoghan (Tulla-roan), T.J. Reid (Ballyhale Shamrocks), Riche Hogan (Danesfort); Billy Ryan (Graigue-Ballycallan), Colin Fennelly (Ballyhale Shamrocks), Pat Lyng (Rower Inistioge).
Subs: Liam Blanchfield (Bennettsbridge) for Lyng (34), Richie Leahy (Rower Inistioge) for Keoghan (45), John Donnelly (Thomastown) for Fennelly (62), Ger Aylward (Glen-more) for Ryan (70+1).
Referee: James McGrath, Westmeath.