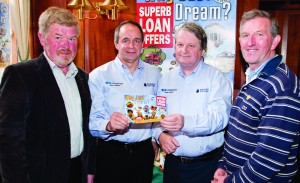 Last Friday saw a delightfully fun launch of Charleville Credit Union's superb loan offer in conjunction with their hugely successful buy local campaign. Relaxed and informal, the launch was really enjoyable and gave local participating businesses a chance to meet each other and to hear Annette Kiely explain the importance of connecting Charleville Credit Union members from around the district with local businesses to help develop and reinforce the local economy.
As part of Charleville Credit Union commitment in developing the local econ-omy for everyone's benefit, when you take out a Charleville Credit Union loan for use with the following businesses you automatically become entitled to their very special discounts and offers which are exclusive to you as a member.
Each business has a different offer or discount depending on your needs and we suggest you contact them directly for full details.
The following businesses are taking part:
Bridgets
Crown Furniture
O'Shea's Hardware
GOC Industrial Size Sheds, Full Building, Gardening and Landscaping Services
O'Riordan Sheds and Roofing Products
Hanbri Construction – Maurice Bridgeman
HCB Furniture – Hamiltons
Southern Stoves and Fireplaces
Perfect Water Systems
Over tea and coffee everyone had the chance to chat and share thoughts and ideas. Hugely impressed by Charleville Credit Union's new superb loan offers specifically aimed at helping members with home improvements and outdoor maintenance, you couldn't underestimate Charleville Credit Union's commitment to Charleville's economic future. Determined to use Charleville Credit Union's influence, once again Annette spoke of her and her staffs hope that members ,whilst free to purchase wherever they wish will also look closer to home first. Being essential to the very fabric of Charleville and districts, it was so exciting to see how vibrant and open minded Charleville Credit Union is even at the ripe old age of fifty this year… 'You're only as old as you feel' goes the saying and with Charleville Credit Union's exciting new approach to lending, you really feel members can look forward to and be part of a wonderfully exciting future together.
THANK YOU KEITH
As if to emphasise Charleville Credit Union's new vibrancy, the wonderful Keith Hanley was invited along to present a very special banner which Charleville Credit Union produced celebrating his resent success in winning 'The Voice of Ireland to three very lucky young ladies. The wonderment written all over their faces said everything. Goodness knows where the Banner will be hung, it's huge. Signing the banner especially for the girls, Keith again showed why we all adore him so much, giving up his precious time, he chatted away as if he had all day. A true star in the making and from every single one in Charleville Credit Union a huge thank you for coming along and leaving three little girls with memories they will cherish for ever.