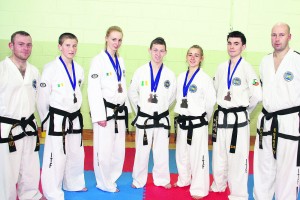 Mallow Taekwondo Club and instructor Mark Buckley, 6th degree Black Belt, returned from Slovakia last week with a total tally of nine medals which placed Ireland second in the European Championships overall. The students had been preparing themselves for the past year, training hard with the Irish national squad team, and the results show how hard they worked, with Katy Laffen bringing home 2 gold and 1 bronze, Eddie Dillon 1 silver and 1 bronze, Tiernan Moriarty 1 silver, Philip McAuliffe 1 bronze, and Emma Justice 2 bronze.
Mallow Taekwondo Club has produced many world and European medallists over its 18 years in existence, and is one of the strongest clubs in the ITA (Irish Taekwondo Association).
Mark Buckley is very proud of his students and the hard work that they have given to the club. The club is growing with new competitors every year and they are now getting ready for the Irish Cup which is on this month in Limerick University for both colour belts and black belts.
Classes are held every Tuesday and Saturday in Woodview Drive, for any information please call Mark Buckley on 086-8220107.