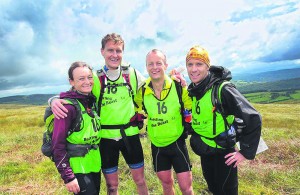 Covering over 300 km of unspoilt rural Irish countryside, The Beast of Ballyhoura, Ireland's toughest adventure race, brought the finest racers from Ireland and around the globe to North Cork and East Limerick over the August weekend. Mountain biking, kayaking, swimming, running, abseiling, orienteering, cliff climbing, road cycling, fell running, tracking, navigation, zip lining, river tubing, over mountains and wild terrain for 36 hours non-stop. Teams navigated the best route and determined the optimum level of equipment, food and pace to win.
The winning team 16 Outfront/MSAI, made up of Paul Mahon, Peter Crumie, Moire O'Sullivan and Adrian Hennessy, rallied home in style, just beating a team that travelled all the way from the UK specially to see if they could battle the Beast. The race also encompasses the annual All Ireland Inter Services Challenge, won this year by a team of officers from the Irish Army.
Showing the very best of what Ballyhoura has to offer for the outdoor enthusiast, it is no wonder the area is Failte Ireland's premier officially recognised adventure hub, cycling hub and heritage hub. Home to Europe's finest single track mountain bike trails and Ireland's National Mountain Biking Park, 1500km of way-marked and national looped walks, the Ballyhoura Mountains and the Galtees, rivers and lakes make this area a must to visit. A good pair of boots and a jacket will give you days of fun mucking about in the Golden Vale. Ballyhoura Failte, the destination's local tourism body, would like to extend its thanks to Causeway Coast Adventure Racing Club who travel from the North of Ireland each year to run and manage this extreme event. Planning commenced duting Easter and Ireland's welcoming spirit was enhanced by all the local landowners who allowed the competitors to travel across their lands.