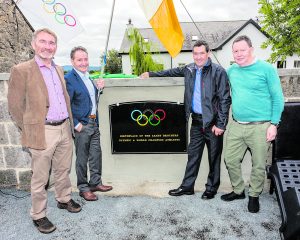 A monument was unveiled to the memory of the famous athletic family, the Leahy brothers of Cregane, Charleville, just on the Limerick border near Charleville last Saturday by BLE Vice President Ronnie Long of Limerick.
Mr Eamon Leahy, a relative of the athletic family, speaking at the unveiling ceremony recalled the athletics careers of the Olympians Con and Pat Leahy. "They practised their jumping in that small field next to us on a fine summer evening 120 years ago with makeshift equipment. One can imagine their parents Thomas and Mary looking on at the future stars, Con who could jump 6 feet four and a half inches high and would go to win Olympic silver in Athens in 1908, Joe who could leap 23 feet in the long jump, Tim who would lead the world ranking in 1912, and Pat who would win silver and bronze Olympic medals and could clear 49 feet in the hop, skip and jump. The Ireland of 120 years ago was a different place and it is such a pity that women were not allowed to compete on the world stage because their sister Ellie Mary (Babe) Leahy could outjump most of her brothers and at a Cork/Kerry athletics meeting in 1904 was publicly recorded jumping five feet one inch and unofficially jumped six feet on many occasions.
"There is no doubt in my mind that we are here today celebrating the victories and achievements of one of the greatest families of athletes this country has ever produced. Their deeds on the world stage must surely rank up there with those of the O'Donovan brothers and Sonia O'Sullivan from over the border in Cork. This beautiful monument will not only stand as a testament to heroic achievements of the past, but will also be an inspiration to future aspiring Olympians and their families," he said.
The monument was erected by a group of interested local people who came together last year with the aim of putting in place a monument to mark the achievement of the famous family who were brought up on the farm in Cregane. Led by their chairman Kevin McSweeney they set about raising the finance necessary to fund their venture and seek permission from the present land owner Joe Foley, which was readily forthcoming. Mr McSweeney thanked everyone who had con-tributed to the success of their venture and all who had attended the unveiling of the monument.