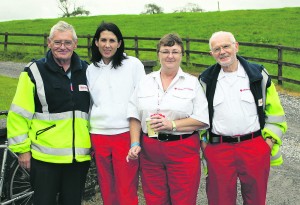 The Brothers of Charity Newcastle West held their 2nd annual charity cycle last weekend. The cycle is the only fundraising event organized by the service itself. This year's event attracted over 80 cyclists. The event commenced with registration at the Brothers of Charity day service. This was followed by a hearty breakfast prepared by staff and volunteers using local produce generously sponsored by local businesses.
The sun was shining as the cyclists gathered for the 100km trek around West Limerick. The cyclists left the Brothers of Charity day service and headed towards Rathkeale with support from the marshals, Red Cross, the Gardai and volunteers. It was a breath taking sight to see such a huge number of cyclists and supporters. The excitement was palpable as the group left Newcastle West.
The cyclists regrouped outside Rathkeale,Askeaton and Foynes and cycled through the towns in unison. They had a well deserved break in Glin with refreshments provided by the local community there. Again the atmosphere was one of fun and craic even though there were some signs of fatigue throughout the camp.
Back on their bikes after a short rest the cyclists headed towards Athea, Abbeyfeale and Templeglantine and back to the Brothers of Charity day service at Lacey's cross.
The local people along the route were very ever present,coming out in their droves to support the cyclists. Overall the cycle was a huge success with many cyclists and volunteers already looking forward to next year's event.