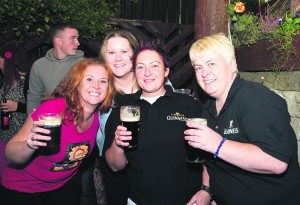 Locals in Geary's Bar Charleville who had supported the pub in the free text and Facebook campaign 'Vote For Your Local' were stunned to see one of Ireland's hottest acts 'The Coronas', who sold out Marley Park in Dublin over the summer, turn up for a surprise Arthur's Day gig last Thursday.
Geary's was just one of eleven successful pubs nationwide and the only pub outside the major urban areas to feature.
The Coronas were only part of what was a memorable evening at Geary's who also completed a local talent competition they have been running fortnightly through the summer. Three acts lined up on Thursday evening in the competition and each performed before and after the headline act for a not insubstantial prize of €500.
Interstate 8, comprising Ger Devine, Kayley O'Shaughnessy, Tadhg O'Callaghan and Danielle Daly battled it out with Timmy Crean and Jamie Hanley of Jaffa Cakes, and Contrast made up of Aine Gould, Niamh Brady and Anna Sheehan. After an exiting and entertaining evening, Contrast were declared winners. Coronas' Danny Reilly, son of folk legend Mary Black acknowledged the high standard of the three acts.
A distinguished guest on the evening was Arthur and his wife Olivia Whitmore who with the other revelers tucked into traditional bacon and cabbage.
"It was a fantastic night, we were delighted that so many voted for us, not only all over Ireland but abroad, and helped make it all possible", said Claud Gough, proprietor of Geary's Bar.
By Matt O'Callaghan