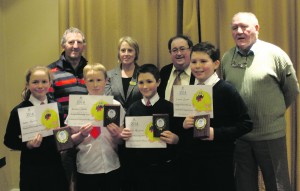 It's the time of year again for the Irish League of Credit Unions All – Ireland Schools Quiz. The annual event, now in its 24th year has become the highlight of the school calendar, attracting over 25,000 participants in over 300 venues throughout the 32 counties.
How the Quiz Works
Participating credit unions and chapters are required to run a quiz and divide the participants into two sections:
• Competition A for children who have not reached their 11th Birthday on or before December 31st 2014.
• Competition B for children who have not reached their 13th Birthday on or before December 31st 2014.
Competition Stages
The three stages of the quiz competitions and the dates they take place are as follows:
Stage 1 – Credit Union level – Charleville Park Hotel – Friday 30th January 2015 at 7 pm
Stage 2 – Chapter level – Friday 27th / Saturday 28th February / Sunday 1st March.
Stage 3 – National level – Sunday 12th April
Local primary schools have been invited to participate in the first stage of the nationwide 2015 Credit Union Schools' Quiz competition, being organised by Charleville Credit Union at Charleville Park Hotel Friday, the 30th of January at 7 pm. Date is now closed for entries.
With the aim of encouraging teamwork among young school children under the age of 13, the questions for the quiz are compiled by primary school teachers and will cover topics such as geography, history, music, literature and sport.
Local quiz winners go through to the Regional Finals and regional winners and runners-up (100 teams of 4 children) will compete in The All Ireland Credit Union Schools Quiz National Final which will take place in the RDS Dublin on Sunday April 12th.
Charleville Credit Union would like to wish all the students taking part in the quiz the very best of luck.