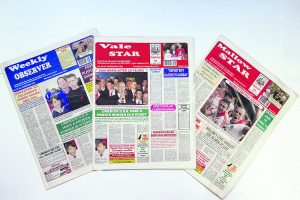 The Vale Star is 39 this week. It was on June 12th, 1982 that the first issue hit the shops, and, in the almost-four decades which have followed, it has become an indispensable part of the communities of North Cork and South Limerick, recording the highs and lows, the happy and the sad.
In all of the 39 years, no event has been as traumatic or surreal as the Covid-19 pandemic. Since March of last year, we have seen so many changes in our communities, but the one thing that has not changed is the support of you, our readers. We are happy to say that sales of your favourite local weekly remain at a high level, and that Thursday is still Vale Star day in North Cork and South Limerick. It really is heartwarming to see that our readers continue to support us so strongly, and we in turn make a promise that we will continue to bring you the best of local news, information and photographs every week, as we have done since the beginning.
The editor and staff of the Vale Star would like to thank readers, advertisers, sporting and community organisations for continuing to place their trust in us. Here's looking forward to our 40th birthday, and further beyond!